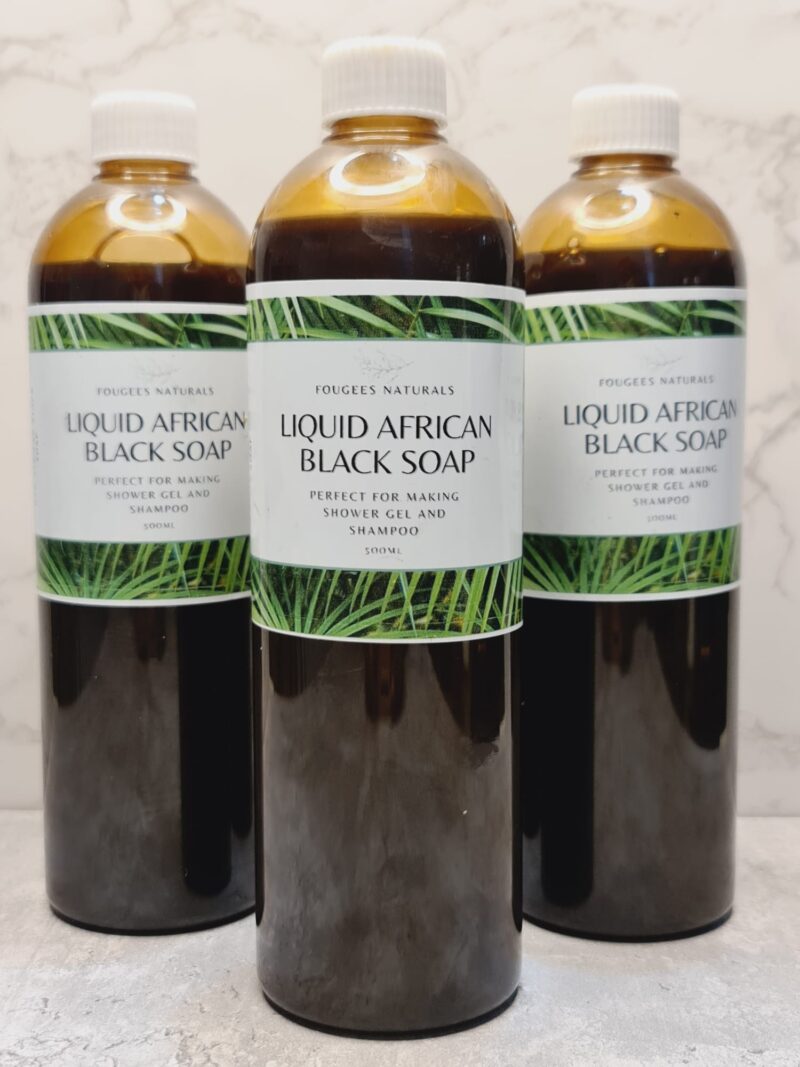 Liquid African Black Soap
18.39$
This is a very thick undiluted liquid black soap base. It can be diluted and mixed with other actives.
Our African black soap is a gentle soap that can be used to wash babies, children and adults. It can be used in a variety ways from shampooing hair, face wash and taking regular showers. It is a soap like any normal soap that produces a rich bubbly lather.
7 in stock
Description
Raw African Black Soap Liquid
Can be used as a Shampoo, Body Wash or Face Wash. This is in a raw form and super thick. You can add oils and other actives to it.
To use the soap please put some of it on the palm of your hand and gently rub it across your skin with some water.
African soap it is genuinely the best due to all it's essential oils and best of all it is
100% Natural
Our Liquid Black Soap
Our Liquid African Black Soap is made in Ghana (West Africa) exclusively which ensures that it is genuine. Black soaps made in the United States or Europe are often made with artificial ingredients and dyes that give them their black colour.
FB Naturals Liquid African Black Soap has a number of uses including removing makeup, treating acne, and healing rough and dry skin. This Fairly Traded soap can be used for bathing, showering, and washing your hair, face, hands, and feet. An additional plus is the soap s ability to gently fight the effects of aging and soothe the effects of sun damage.
The benefits of our Liquid Black Soap
If you haven't tried Black Soap you haven't lived. Made from cocoa pods, virgin coconut oil, and Raw Shea Butter, our soap packs vitamin A, C, and D power. Loaded with anti-aging antioxidants, Black Soap is essential for stressed-out skin of all skin types. Our Soap is made in the traditional way by Pusu-Namogo villagers in Ghana who have worked to form a community cooperative that benefits all within their community.
Black Soap's original recipe came from the neighboring country of Nigeria who had for a long time used coconut, palm, and Shea Butter in their Soaps. Workers from Ghana took this receipt back to their country and began to play with the formula. The villagers found that the pods discarded from cocoa production could be used in the lye process and altered the recipe to create "Black" Soap, allowing them to further utilize the waste in a productive manner. Our soap is made from Raw Shea Butter, Virgin Coconut Oil, and Cocoa Pods. That's it. Plain, simple, and deliciously good for your skin.
Made with Fairly Traded, Vegan, and Organic Raw Shea Butter. Natural Soap for Hands, Face, Body, and Hair. Great for All Skin Types.
Weight: 250ml – 1 litre
Origin: Ghana
Colour: Deep Brown
Aroma: Natural
Palm Oil Free Soap
If you are experimental, you can add your own additions to black soap to use for skin exfoliation, making a deep conditioning shampoo The soap is rich in organic potassium.
Ingredients:
Cocoa potash, Coconut oil, She butter, Senna leaves
If you have any question or are thinking of buying in bulk please don't hesitate to contact us! We are happy to provide wholesale prices and answer any of your queries.