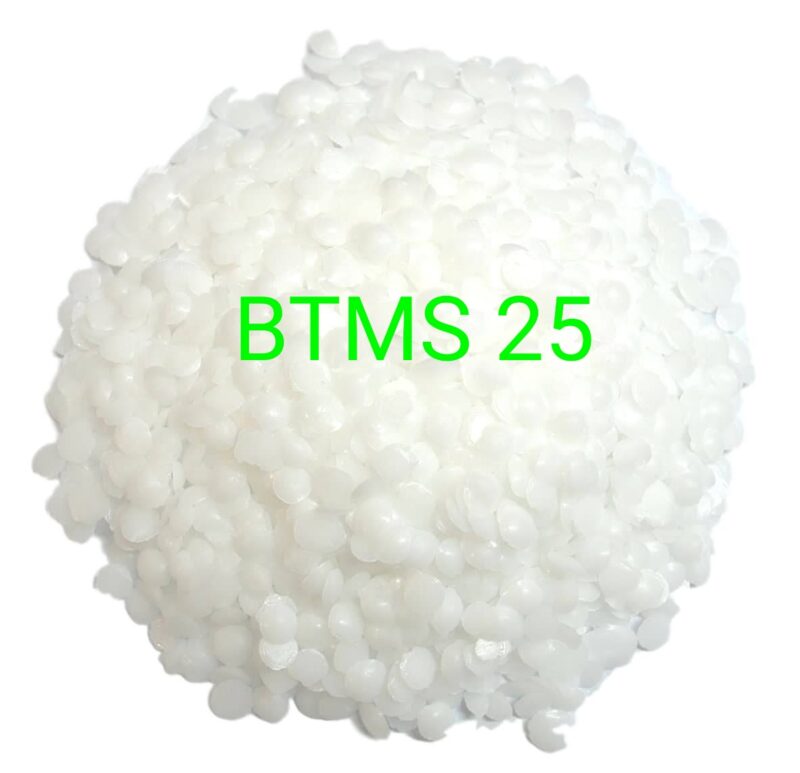 BTMS 25 – Emulsifier for Cosmetic
£5.00 £8.00
BTMS 25 is an amazing ingredient, mainly used as a hair softener in a recipe for hair conditioner
BTMS 25 is also a natural emulsifier and will have a thickening effect on your recipe.
Uses of BTMS 25
BTMS 25 (behentrimonium methosulfate) can be used for hair care, skin care, shampoos, conditioners and soaps.
As a part of hair care formulations, BTMS 25 leaves your hair with a great body and spring which makes it easier to comb through. Also, because this emulsifier is incredibly mild, it's ideal for use in cosmetic formulations that are both leave-on and rinse-off.
Description
BTMS-25, is a natural conditioning emulsifier derived from Colza oil. It can be used to emulsify lotions and scrubs but is more commonly used to make hair conditioners. BTMS-25 will give creams and lotions a powdery, soft feel, and can be used to emulsify high levels of silicones. BTMS-25 can be substituted for BTMS-50 in conditioners although you may find it slightly less conditioning as it has 25% actives versus 50% actives in the BTMS-50.
Behentrimonium Methosulfate (and) Cetearyl Alcohol is an exotic hair and skin care product used widely across board. BTMS is naturally derived from Colza oil, and gives a refreshing feel on the skin and hair.
BTMS can be used in creams and lotions to provide a soft, powdery feel to the skin. BTMS can also emulsify some silicones.
1–10% of the overall product; ~25% of the oil phase to emulsify.BTMS-25 is often used at a higher rate than required simply to emulsify due to its conditioning goodness.
It gives our products the most luxurious, wonderful skin feel and leaves hair feeling stunning—easy to comb through and all kinds of silky. It also functions as a complete emulsifying wax, emollient, and offers noticeable thickening.
INCI: Behentrimonium methosulfate (and) Cetearyl Alcohol
Recommended usage rate: 1 – 10%
PH: 5–7 (2% solution)
Solubility: Oil
Specifications
| | |
| --- | --- |
| Weight | N/A |
| Size | 100g, 50g |