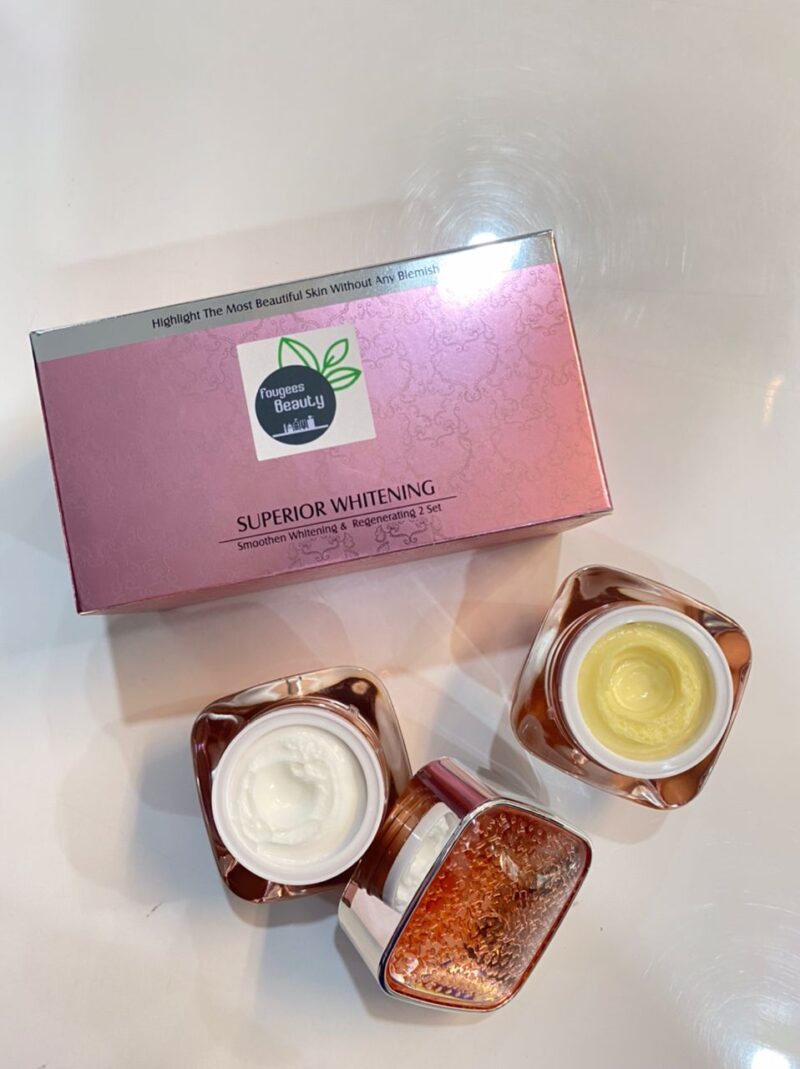 Superior Whitening Day & Night Face Cream
35.36$
Superior Whitening
Smoothen whitening & regenerating 2 set.
Natural essential oils add unlimited release of beauty energy.
Inject youthful vitality into the skin. Keep skin bright and moisturized.
Highlight the most beautiful skin without any blemish.
Net 25g + 25g
In stock
Description
Inhibit melanin forever, Superior 2 in 1 sets. The whitening and brightening effect can be obtained as soon as 14 days.
Instantly penetrates and moisturises skin.
fight back dullness, improve uneven skin tone.
improve skin metabolism and whitens skin.
About the product
1. Perfect luxury packaging-this rose whitening moisturizing firming cream contains hyaluronic acid, supports cell renewal, enhances elasticity and skin luster, and has a powerful whitening effect.
2.Advanced whitening and moisturizing cream, non-greasy, provides deep hydration to your skin, smooths fine lines and wrinkles. Nourish, repair and renew the epidermis, restore natural water balance.
3. Only use high-quality pure natural ingredients made of pure natural skin care products, suitable for all skin types.
Natural extract improves skin condition
1.ROSE OIL: Rose essential oil has an obvious skin care effect on the skin, can promote the decomposition of melanin, improve dry skin, make the skin white and tender, and beautify the skin.
2.SODIUM HYALURONATE: The moisturizing effect of sodium hyaluronate is really powerful at the cosmic level, preventing dryness of the skin and helping the skin to retain moisture. Repair the damaged skin barrier, improve the signs of aging, and finally achieve the skin care goal of smoothing fine lines and making the skin texture smoother and more delicate
3.Vitamin C: Vitamin C can exert anti-oxidation and anti-aging effects, inhibit the activity of tyrosinase, hinder the production of melanin, improve the dullness of the skin, and promote the proliferation of collagen, which has the effect of anti-wrinkle and anti-aging
SUPER WHITENING DAY CREAM
Features: Contains the essence of revolutionary whitening repair, can stimulate the vitality of the skin potential, from the inside and outside the skin whitening, so you enjoy the unprecedented profit white, white body silky smooth feeling.
Night Cream
Features: The faint yellow delicate paste exudes the fragrance of roses, like a delicious ice cream. It is not greasy at all when applied on the face, it is very smooth. Double Rose Essence specially extracted rose essential oil to nourish and nourish fine lines.
Boost Luster Superior Whitening. Feel The Delicate Changes Of The Skin.
How to Use
1. After clean the face, apply an appropriate amount of cream onto your facial skin
2. Gently massage with fingers fill it is fully absorbed