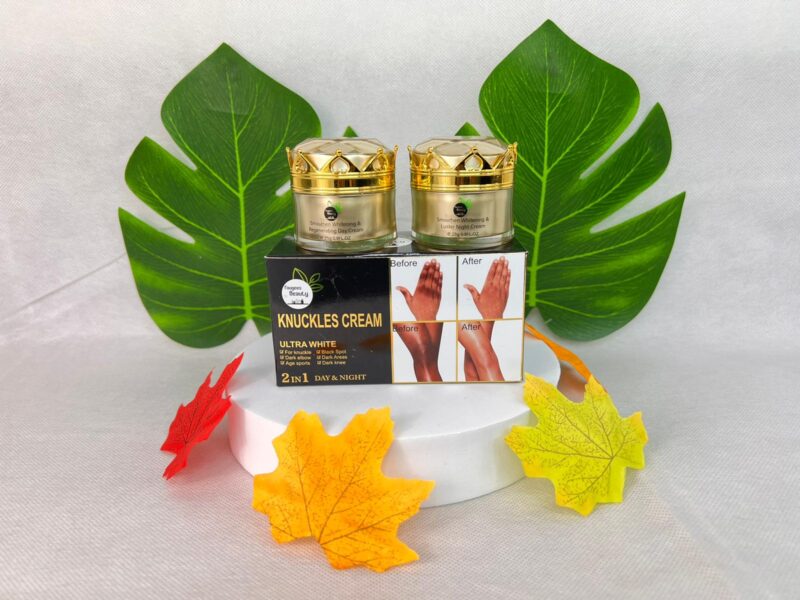 Description
Fougees Beauty Knuckles Cream Ultra White Lightening & Regenerating Dark knuckle Removal Cream For Black Spot Dark Elbow Dark Knee
Smoothen Whitening & Regenerating Day Cream 25g
Benefits: The addition of rare and active substance can effectively enhance the vitality of cells and promote the formation of collagen. Meanwhile, its various moistening and replenishing component can penetrate into the skin and make skin elastic and restore vitality.
Ingredients: Water, propylene glycol, glycerol, betaine,sodium hyaluronate,ethylhexyl palmitate, cyclopentasiloxane, squalane,caprylic/methyl isothiazolinone, methylparaben, IPBC, flavor, and carbomer.
Smoothen Whitening & Luster Night Cream
Benefits: Its plant collagen composition can reach skin surface. It can tighten the skin from inside, help to repair the loose skin, improve skin dryness, smoothen fine lines keep skin elasticity, maintain smooth and delicate skin, and delay skin aging.
Ingredients:Water,propylene glycol,glycerol,betaine,sodium hyaluronate, carbomer,PDMS (polydimethylsiloxane), squalane, caprylic/capric triglyceride,polyacrylamide,methylparaben,IPBC,methylisothiazolinone,and flavor.
Usage:
After cleansing, take an appropriate amount of the cream and rub it on the knuckle, elbow, knee, and gently massage until completely absorbed. Best combined with our Intense Serum for dark knuckles
Note: Please put it in a cool and dry place, and avoid direct sunlight.
Net:25g+25g