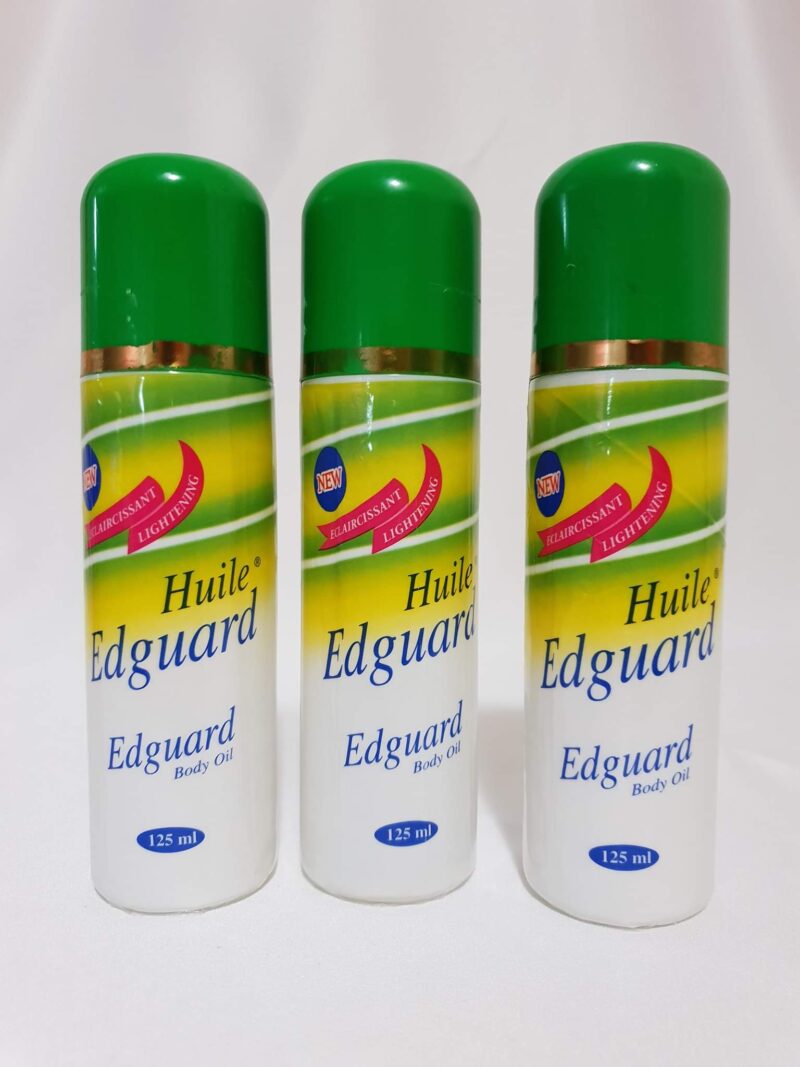 Huile Edguard Lightening Body Oil
£10.00
Benefits
Edguard Body Oil brightens and moisturizes your skin.
Smooth emulsion rich in natural nutritive and protected substances.
With Almond oil, Lemon oil, Tea tree oil and Aloe vera this oil hydrates and nourishes the skin.
It gently removes dead skin cells
Renew your natural, healthy beauty
It has a non-greasy texture to nourish the skin.

This oil rejuvenates damaged skin, reduce the scars and helping to soothe the sunburn.
Net: 125ml
10 in stock
Description
Edguard Lightening Body Oil
Edguard Body Oil lightens and moisturizes your skin. Smooth emulsion rich in natural nutritive and protected substances. With vitamin E vegetable oil and Aloe vera this lotion removes all the skin in deeply by hydrating it. Edguard Oil is extracted from plants with recognized medicinal properties. Its active and nutritious agents erases stains and wrinkles. Edguard oil rejuvenates the skin by restoring the epidermis. It provides protective agents against the harmful rays of the sun, moisturizes the skin and reduces stretch marks. Instructions:
Ingredients in Edguard Oil:
Glycerin, MPG, Aloe Vera Extracts, Tocopheryl Acetate, Lemon Oil, Tea tree Oil, Sweet Almond Oil, Kojic Acid, Fragrance
How to use Edguard Body Oil:
Apply onto areas to be treated and massage gently until completely absorbed.
Use it twice daily. Gently massage every morning & night on clean skin using upward circular movements.
For best results, use along with other 7 Day magic argan soap or 7 days magic Carrot lotion or Civic Intense Soap
Regular use will give maximum results