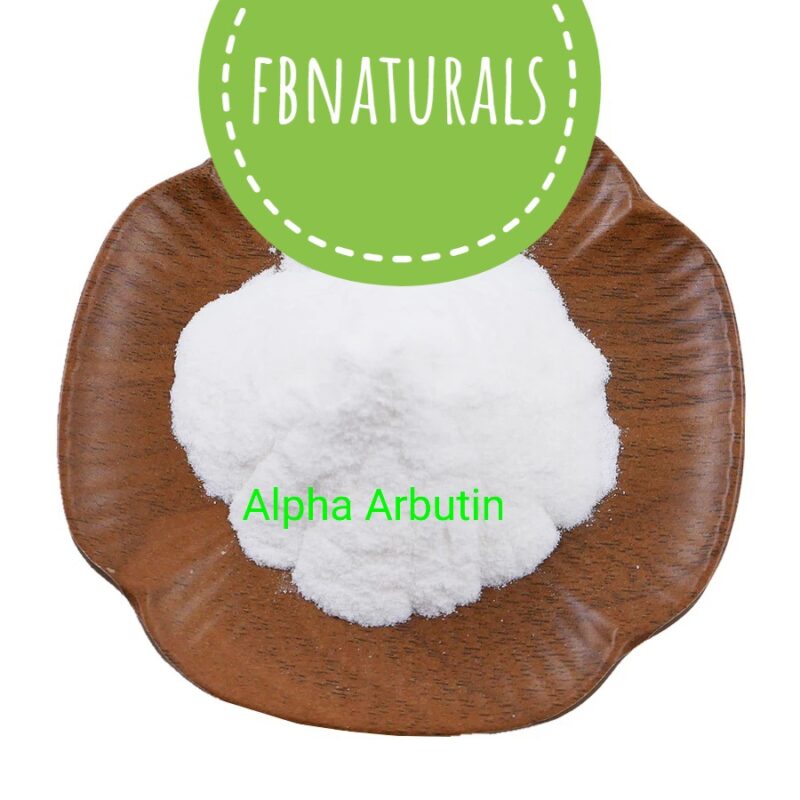 Alpha Arbutin Powder 99% Pure
14.14$ 50.92$
A natural skin lightening and whitening agent. It blocks Tyrosinase activity and reduces the skin's melanin (pigmentation) production. It is great for eliminating skin conditions such as age spots, sunburns, freckles, melasma, hyperpigmentation, and many skin discolouration issues.
Key Facts
Safe for all skin types
Soluble in water
Stable from PH  5 to 7.
Recommended usage: 0.1 – 2%
Purity: 99.99%
How to Use
Add to Creams, Lotion, Moisturisers, Soap. DO NOT EAT
Ingredients: 100% Alpha Arbutin. Soy, dairy, yeast and additives.
Description
Alpha Arbutin is derived from the bearberry plant,  and unlike hydroquinone, it has no negative side effects on the skin. When applied topically, it is known to inhibit tyrosinase activity, and prevent the formation of melanin. Compared to Beta Arbutin, Alpha Arbutin is more stable, and also more expensive to manufacture. Due to its effect on the tyrosinase enzyme, and it's ability to be used safely, dermatologists consider Alpha Arbutin the safest option to skin lightening and minimizing dark spots.
Although it is effective just on its own, when paired with other natural skin lightening agents, such as Vitamin C, Niacinamide, and Kojic Acid, it has a much more potent skin lightening effect on the skin. Alpha Arbutin is a water-soluble compound that can be added to your natural skin lightening lotion/base lotion to create a natural skin lightening effect on the skin.
Compatibility
Alpha Arbutin powder is compatible with SepiWhite, GigaWhite, Vitamin C, L-Glutathione, Kojic Acid, and Kojic Dipalmitate.
Facts about Alpha Arbutin Powder
1.  Alpha Arbutin is only soluble in water.
2.  Alpha Arbutin is  the preferred Arbutin, as it's more stable than Beta Arbutin.  For this reason,  it is generally more expensive than it's counterpart, Beta Arbutin.
3.  Aim to use your Alpha Arbutin Enriched Skin Lightening lotion within a 4-6  month time period.
How to use it
Beginner: Add an eighth of the tube to 4oz of your favorite base cream.
Advanced: This ingredient is recommended for use at up to 5% in formulations. It is soluble in hot water and propylene glycol with limited solubility in room temperature water or creams. We recommend adding to distilled water heated to about 50 degrees Celsius and adding this solution to an emulsion or serum at a similar temperature. Best used in a formulation with a pH range of 5-7, with instability seen at lower pHs.
Arbutin helps eliminate the formation of dark spots and age spots and is a great all natural alternative to hydroquinone.  Since hydroquinone may have side effects, many people are looking for a safer alternative. Arbutin powder works by promoting lightening and even skin tone. Works well on all skin types.  Mix it into your favorite base cream for a DIY Skin Brightening Cream or try ours. Use Arbutin Powder as an additional ingredient to your daily skincare routine. This product add-on comes in the form of a powder that will allow you to DIY your own skincare formulation and mix into your own products. Add an eighth of this tube to your daily facial cream to aid in the elimination of age spots.
Specifications
| | |
| --- | --- |
| Weight | N/A |
| Size | 100g, 10g, 25g, 50g |