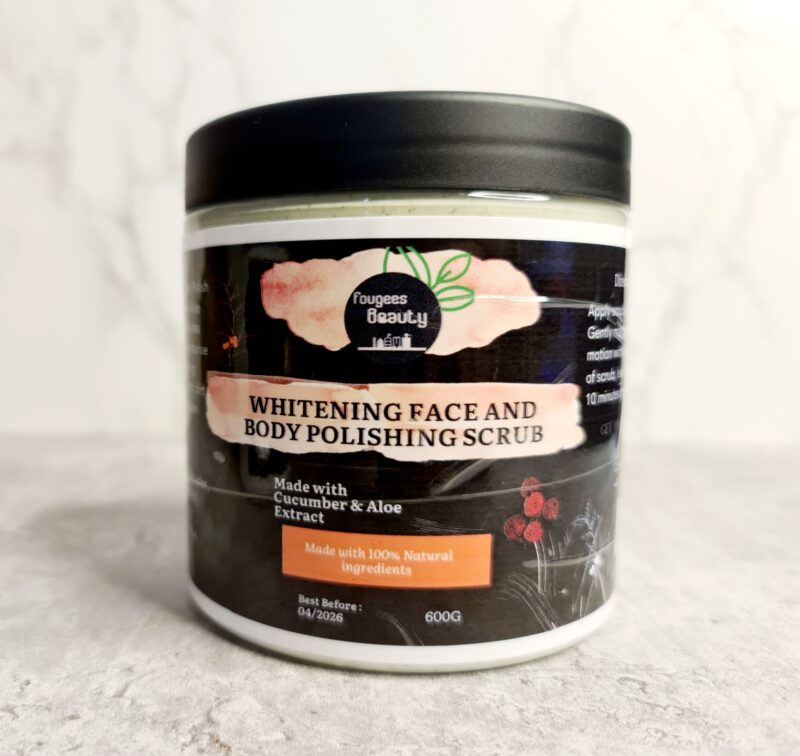 Whitening Face and Body Polishing Scrub
21.21$
Made with Cucumber & Aloe Extract, get your glow back with this skin loving emulsified polishing scrub.
Restores moisture to your skin
Lightens and brightens up your complexion
Adds a healthy glow to your skin
Exfoliates dead skin cells
Smoother & softer skin
Net: 500g
1 in stock
Description
Fougees Beauty Face & Body Polishing Scrub is made with Cucumber and Aloe Vera Extracts. It helps to exfoliates the skin gently for smooth skin. It improves and moisturises your skin naturally by removing dead skin cells impurities and dirt to replace them with fresh clean skin.
Cleans the skin effectively from dead cells and leave skin healthy with a fresh glow. Gives a soft smooth and fragrant skin. Our unique formula use natural organic oil to quickly and gently remove dirt and impurities, leaving skin bright, smooth, clear and blemish free.
How to use
Apply to damp skin and do gentle massage.
Leave on for at least 10 minutes
Rinse with water again.
Repeat once or twice a week for best result.
Ingredients
Aqua, Juglans Regia Shell Powder, Stearic Acid, Ceteatyl Alcohol, Glycerin, Propylene Glycol, Cucumis Sativus Extract, Aloe, Fragrance.