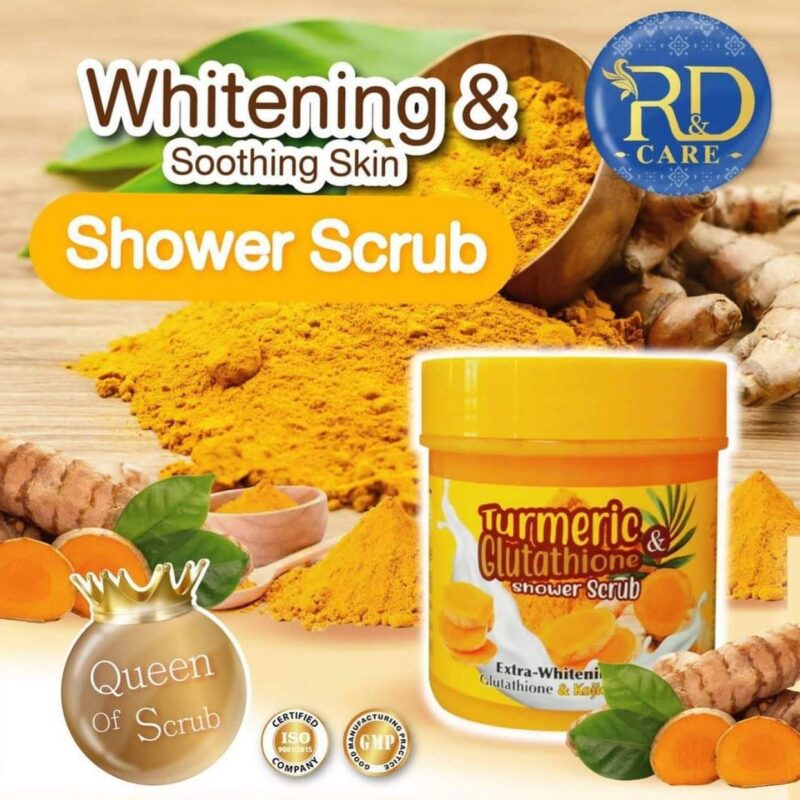 RD Turmeric and Glutathione Shower Scrub with Extra Whitening
₦8,167.00
A powerful combination of Turmeric and Glutathione, it exfoliate the skin and gradually brightens and lightens the complexion..
Shower scrub
Combination of powerful ingredients
Lightens and glows skin
Exfoliate the skin
3 in stock
Description
A 3in1 Shower Scrub combine with powerful whitening actives from Turmeric Extract and Glutathione. The shower salt gently exfoliate your skin to leave you feeling luxuriously soft & smooth and get feeling bright after use.
Features
Micronized salt – gently exfoliate to help unclog pores for skin that looks smoother and brighter without skin irritation.
Turmeric Extract – revive your skin by bringing out its natural skin radiance and protects skin from free radical damage and even slows down the formation of fine lines and wrinkles.
Glutathione & Kojic Acid – can reduce melanin and gives a brighter, smoother skin.
Camphor – help reduce irritation, it has antibacterial properties to reduce acne.
Direction
Scoop out a generous amount and apply onto wet skin. Massage gently in circular motion to remove dead skin cells then rinse off with water.