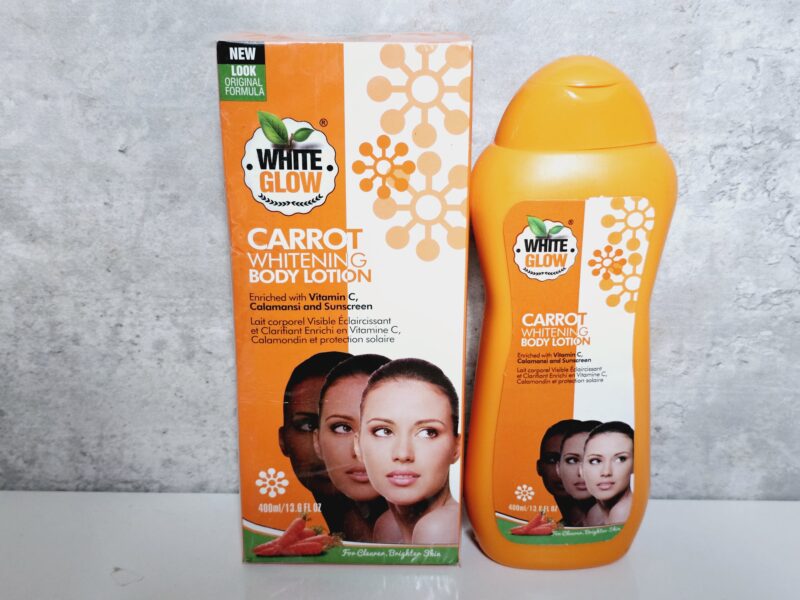 White Glow Carrot Whitening Body Lotion
₦5,833.57
Enriched with vitamin C, Calamansi and sunscreen, White glow body lotion brightening lotion makes the skin light and also you have a uniform skin complexion. Made with very active ingredients, this lotion acts on the skin, nourishing, moisturizing and causing the skin complexion to appear the same colour. In other words, it is a corrective lotion that helps reverse the effect of harmful creams such as bleachers, on the skin.
Gives the skin a perfect glow
Repair damaged skin
It lightens the skin
Very Good and suitable for the skin
Good for the skin
Highly recommended
8 in stock
Description
White Glow whitening body lotion is formulated with the most advanced skincare ingredients to fade dark spots and acne, clear blemishes on the skin, protect your skin against the effect of ageing, soften the skin texture, give even skin tone and give a more radiant, balanced skin tone.
This silky smooth body milk has been formulated with natural ingredients to lighten your skin complexion soften skin texture clear dark spots and acne give even skin tone protects your skin against the effect of ageing. Apply daily for a natural silky smooth skin tone and youthful glow.
Calamansi/Lime is an excellent natural source of antioxidant, a powerful natural exfoliator known to lighten stubborn dark spots. Sunscreen, helps protect skin from darkening and sun-damage.
Uses –  for an even toned glow by fading away dark discolorations on the skin such as age spots, freckles, or dark patches that may occur during pregnancy or the use of birth control.
Direction – Apply everyday after shower, all over the body. Massage in until complete penetration absorbtion. Use twice daily and in 7 days the effect should be evident.