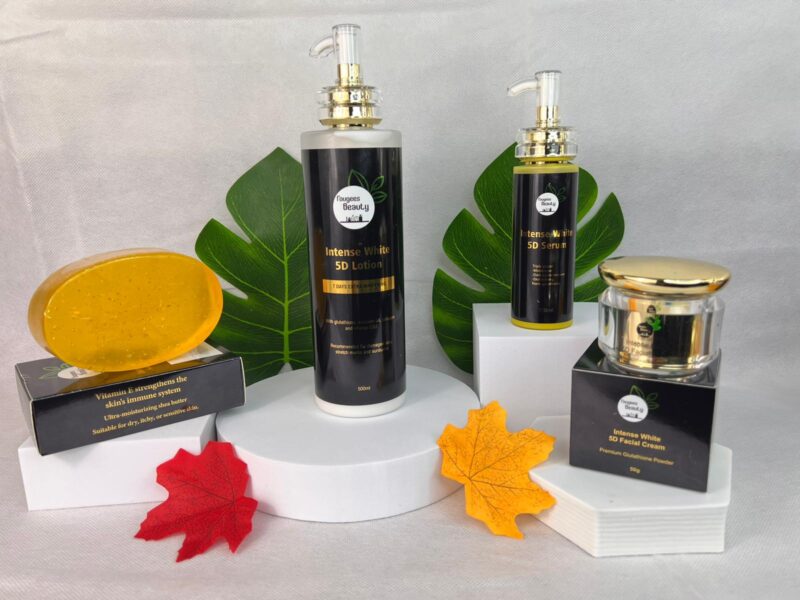 Intense White 5D Premium Full Set
127.29$
With glutathione, avocado oil, collagen and vitamin C&E. It does not only whites the skin, the set is also recommended for damaged skin, stretch marks and sunburns.

-Skin refining
Nano glutathione
In stock
Description
Intense White 5D Body Lotion 7 Days Extra Whitening(500ml)
Moisturize and brighten your skin with our best-selling Intense White 5D Body Lotion is fortified with glutathione and vitamin C. The lightweight formula quickly absorbs into your skin so you can see results in as little as 7 days. A lightweight lotion that quickly absorbs into the skin. Made with glutathione which promotes even skin tone and fights the effects of aging.
RESULT Regular use will make your skin appear more radiant and youthful, it will also whitens your skin in 7days.
WARNING
For external use only, avoid contact with eyes. If irritation occurs discontinue use. Don't use on children under 12 years. Keep in cool and dry place.
INGREDIENTS
Glutathione, avocado oil, collagen and vitamin C&E Caviar, kojic Acid, PEG-75 Arbutin, L-Glutathione, Carrot Seed Oil, RX saluta injection sulfate, Cocamidepropyl Betaine, Cocamide DEA,Glycol Distearate,Licorice Extract, Hydrolyzed soy protein perfume(Rosemarinus Officinalls) Extract,Panthenol-D, PED-75lanlin, Aloe Barbadensis LeafExtract, Sodum Lactate, Tocopherol Acetate(Vta-min-E), Retinyl Paimitate(Vitamin-A Palmtate), Vitamin-Kcitric Acid Di-Sodium EDTA DMDM Hydantoin.
Intense White 5D Serum (120ml)
5 days whitening booster is a complexion clarifying milk serum that removes and fades out stubborn dark spots, acne scars, sun spots and blemishes. It is a fast acting milk serum that helps restore a clearer and more radiant even-toned complexion while also smoothing out dry skin.
5 days whitening serum: Contains vitamin C. Contains clarify milk serum to remove skin blemishes. It's fast acting milk serum that helps restore the body nutrients. It helps the body achieve a clearer radiant & even toned complexion. It smooths out dry skin.
Usage
Gently mix with your lotion or face cream and apply over face & neck after cleansing and toning using hands.
Intense White 5D Facial Cream – Made with Premium Glutathione Powder(50g)
This exfoliating cream (day and night) for the face protects you against the sun. It is also Anti dark circles, anti dark circles and anti burns. It rejuvenates and removes all signs of aging and gets rid of dead skin that weighs down and aging the face. Very recommended to use it with Intense White 5D lightening exfoliating soap.
Directions : After washing your face with our Intense White 5D soap, apply the exfoliating cream on your face twice a day. Gently massage it till the cream has completely absorbed into your skin.
Ingredients : Glutathione,Collagen,VitaminC&E,Glycerin,Water,Acid,Kojic, Alcohol,Alpha Arbutin, Hydrogenated Palm Oil
Intense White 5D Soap – Clarifying Milk Soap Brightens & Refines Skin & Anti Aging (250g)
INSTRUCTIONS FOR USE:Lather up, rinse and repeat to reveal beautiful glowing skin with the Intense White 5D Soap.
Exfoliate and brighten while visibly reducing signs of aging using this premium bar soap specially formulated for ethnic skin.

INGREDIENTS:Goat Milk,Glutathione,VitaminE,Shea Butter, Coconut Oil, Olive Oil, Glycerin, and Water.