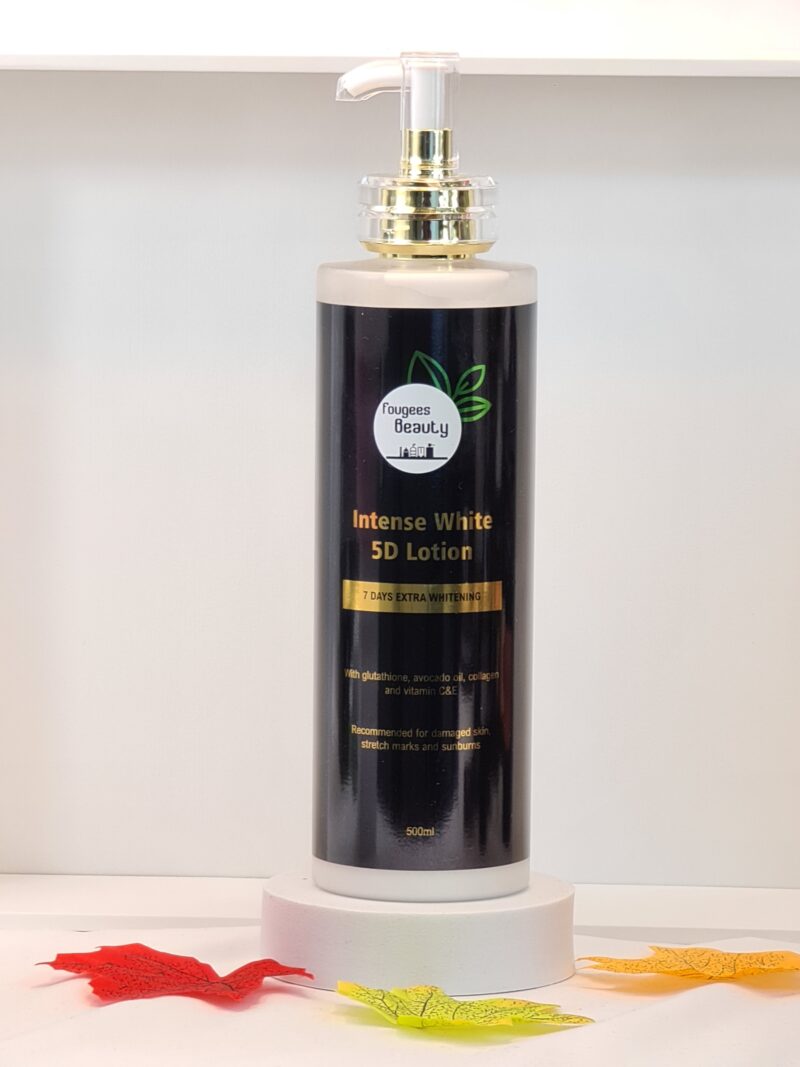 Description
 Intense White 5D Body Lotion 7 Days Extra Whitening(500ml)
Moisturize and brighten your skin with our best-selling Intense White 5D Body Lotion is fortified with glutathione and vitamin C. The lightweight formula quickly absorbs into your skin so you can see results in as little as 7 days. A lightweight lotion that quickly absorbs into the skin. Made with glutathione which promotes even skin tone and fights the effects of aging.
RESULT Regular use will make your skin appear more radiant and youthful, it will also whitens your skin in 7days.
WARNING
For external use only, avoid contact with eyes. If irritation accurs discontinue use. Don't use on children under 12 years. Keep in cool and dry place.
INGREDIENTS
Glutathione, avocado oil, collagen and vitamin C&E Caviar, kojic Acid, PEG-75 Arbutin, L-Glutathione, Carrot Seed Oil, RX saluta injection sulfate, Cocamidepropyl Betaine, Cocamide DEA,Glycol Distearate,Licorice Extract, Hydrolyzed soy protein perfume(Rosemarinus Officinalls) Extract,Panthenol-D, PED-75lanlin, Aloe Barbadensis LeafExtract, Sodum Lactate, Tocopherol Acetate(Vta-min-E), Retinyl Paimitate(Vitamin-A Palmtate), Vitamin-Kcitric Acid Di-Sodium EDTA DMDM Hydantoin.