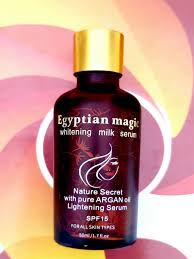 Egyptian Magic Whitening Milk Serum
14.14$
Clarify your skin and be blemish free with Egyptian Magic Whitening Milk Serum. This whitening serum is formulated with Argan Oil, Kojic Acid and Vitamin C to remove stubborn dark spots, acne scars and sun spots and help restore radiant, even toned complexion
Net 60ml
3 in stock
Description
Egyptian Magic Lightening Serum soothes the skin with its nature secret argan oil which is good for the skin. This serums lightens and clarifies your skin, giving it an even tone.
Aids and prevents skin conditions such as psoriasis, acne, atopic dermatitis (itchy skin), stretch marks and other forms of bacterial and fungal infections. – Anti aging; as it reduces and removes wrinkles. – And finally, whitening serum to repel the darkening effects of the scorching Sun.
Mix thoroughly with your lotion and use 2 times a day. TIP: pro-Mix with your Egyptian body lotion for even stronger and faster results. Is always good to scrub your body twice or three times weekly. Formulated with nutritious vitamin C, Argan oil, kojic acid to remove stubborn dark spots, acne and scars.
Purec Egyptian Magic Whitening Serum with Egg Yolk and L-Glutathione for a smoother, whiter and firmer skin