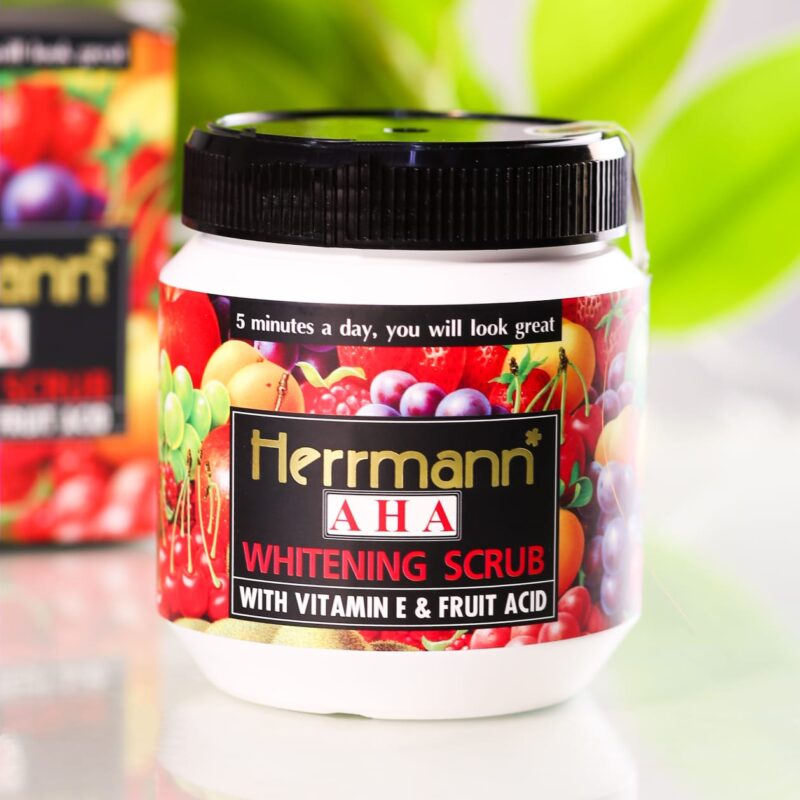 Herrmann AHA Whitening Scrub
28.29$
Effectiveness
Herrmann whitening scrub's innovative natural scrub beads help remove dead skin cells and clean face and body's pores deeply without causing irritation.
Contains a great active ingredient, fruit acid that regulates the skin metabolism and regenerating skin process thus whitening the skin gradually and naturally, it also encourages replacement of damaged cells by new and healthy ones.
4 in stock
Description
Exfoliating and whitening fruit body scrub.
Use Herrmann AHA Lightening Scrub With Vitamin E & Fruit Acid 5 minutes a day, you will look great. Use Herrmann Lightening Scrub daily, your skin will be brightened and whitened. The essential scrub with Fruity-acid formula helps stimulate natural balance of skin cells without causing irritation. It scrubs away the appearance of unpleasant or dull surface cells and moisturizes for sheer, lively and youthful skin. Suitable for all skin types. If you really know how to use this scrub well, it can lighten up to 3 shades up.
Plus specially added Vitamin E helps moisturizing skin for sheer & lively face and body. It also contains rejuvenating action actively stimulates proper cellular respiration and generally leaving the skin firmer and more elastic this maintains skin younger and more beautiful.
To Use Hermann Whitening Scrub
Dab a small amount of scrub onto wet face, massage gently with circular motions and rinse off with warm water. If use daily, you'll immediately feel difference in softer and lighter skin.
Ingredients of Hermann Whitening Scrub
Glycolic Acid, Lactic Acid, Menthol, Camphor, Glove Oil, Propylene Glycol, Stearic Acid, Vitamin E, Witchazel Extract, Mineral Oil, Fragrance, Aqua, Polyethylene