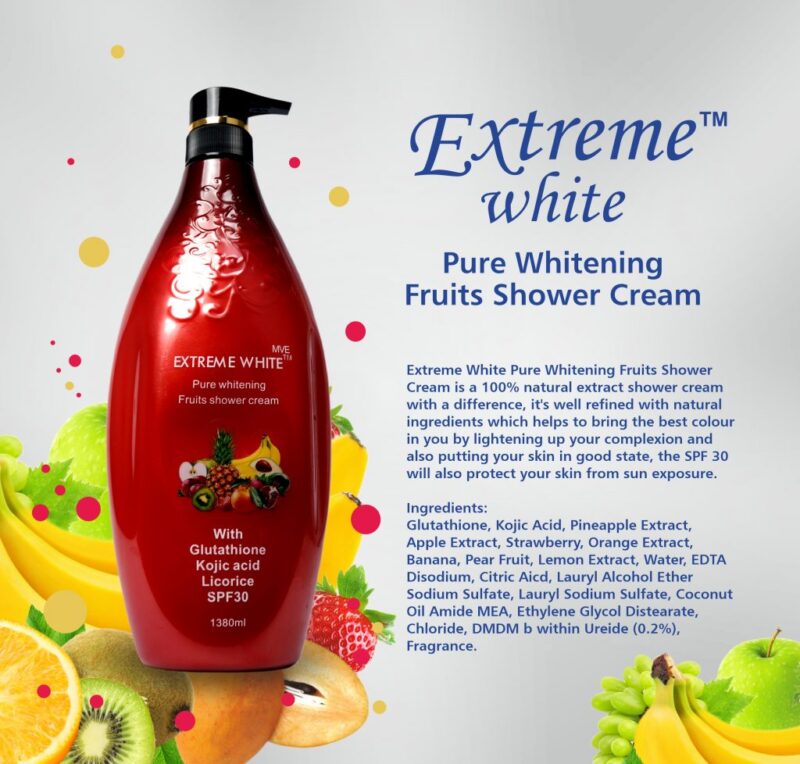 Description
Extreme white is a pure whitening fruit shower cream is a 100% natural extract shower cream with difference, it is well refined with natural ingredients which helps to bring the best colour in your complexion and also putting your skin in good state, the SPF 30 will also protect your skin from sun exposure. This is made of kojic, glutathione, licorice and has spf 30.Extreme White pure whitening fruits shower cream is made from natural fruits extracts, it whitens and moisturizes the skin. Makes you look younger and fresh.
It is made with the world most active ingredients that help to whiten the skin in a short period of time thanks to alpha-arbutin and glutathione and alpha-hydroxy and other active ingredients that makes this shower gel special from others. its made for all skin types.
Ingredients
Glutathione, Kojic Acid, Pineapple extract, apple extract, strawberry, orange extract, banana, pear fruit, lemon extract, water, EDTA Disodium, Citric Acid, Lauryl Alcohol Ether.