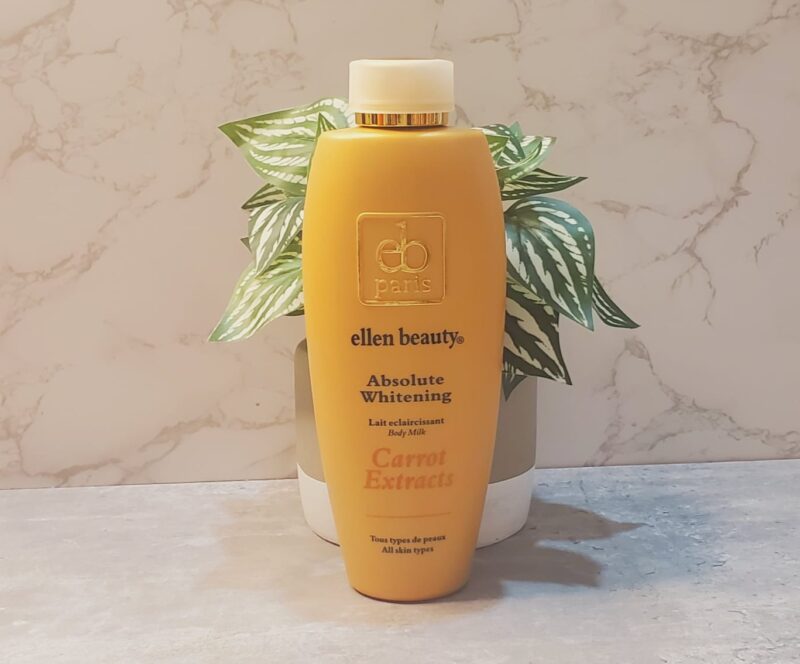 Ellen Beauty Absolute Whitening Lotion with Carrot Extracts
32.53$
Ellen Beauty whitening body milk lotion
Benefits
Smoothness and brighten your
Gives you skin protection and nourishment to keep it healthy
Beautiful and smooth to touch
Create a healthy balance for you skin
Fades out stretch marks
Out of stock
Description
Ellen Beauty absolute whitening is formulated with a complex of plant extracts, including carotene, that offer extreme depigmenting power and kojic acid vectorised with an ingredient that increases its skin penetrating abilities for intense whitening lotion.
Ellen beauty absolute whitening brightens and even out skin tone and visibly lightens dark spots to restore radiance to skin. The rapidly absorbed and non-greasy emulsion contains hydrating active ingredients to allow the skin to regain its supple quality.
The ellen beauty formula is perfectly safe and ensures the skin's integral structure.
Multi-vitamin whitening body lotion with carrot oil. EB Paris Ellen Beauty carrot lightening Super Strength, Remove Blemishes and Increases Radiance, It extracts which are excellent sources of brightening and leaves a lighter even skin leaving the skin feeling clean and refreshed.
Direction for use: Apply Ellen Beauty Whitening Body Lotion twice daily preferably after bath both in the morning and just before going to bed at night.