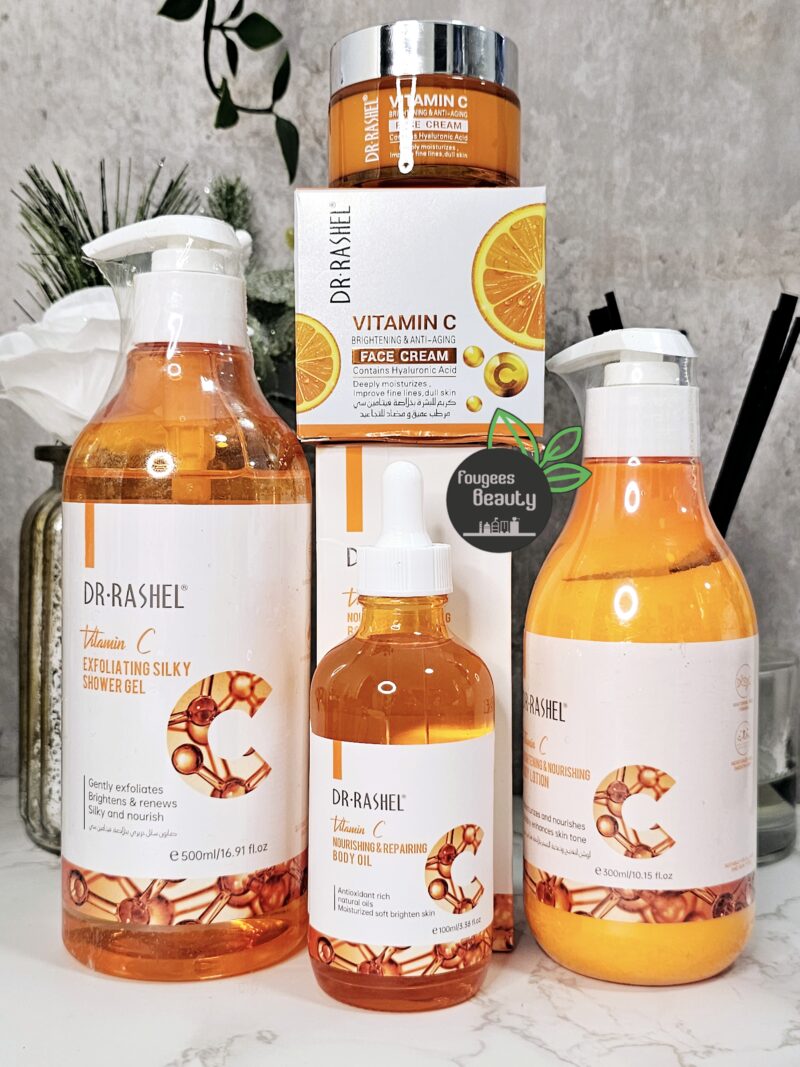 Description
Dr. Rashel Vitamin C Brightening & Nourishing Body Lotion
Benefits : Vitamin C brightening & nourishing body lotion not only does it moisturize your skin, you can also enjoy effective skin whitening and skin firming effects. A whitening lotion that penetrates the skin deeply, whitens, moisturizes and tightens the skin. It gently improves the texture of your skin, making it very smooth and light, and your skin is silky smooth
How To Use : Apply a suitable amount body lotion. Gently massage the lotion onto your skin. Apply evenly all over the body. Use daily to give your skin the perfect results.
Dr Rashel Citamin C Whitening Exfoliating Silky Shower Gel
Benefits : Vitamin C exfoliating silky shower gel that gently cleanses and moisturizes skin while helping slough away dry, dead, dull and flaky skin. This vitamin-rich, energizing shower gel washes away pollution and impurities while brightening and nourishing the skin, leaving it soft and with a more youthful glow
Use For : Face, Body Shower Gel
Feature : Gently Exfoliates – Brightens & Renews – Silky and Nourish
How To Use : After rinsing the skin , take an appropriate amount and put it on the hand or bath ball, apply it to the whole body and knead gently to produce a rich foam (avoid contact with eyes), rinse thoroughly with water.
Dr. Rashel Vitamin C Nourishing & Repairing Body Oil
Benefits : Helps repair damaged skin – packed with essential fatty acids, vitamins, and antioxidants, the body oil helps in restoring the dry and damaged skin to its healthy state. The protective moisture barrier of the skin is strengthened to protect the skin from city pollution. Helps reduce signs of premature skin aging – the intensely moisturized and nourished skin is capable of retaining its natural elasticity for a longer time and be free from fine lines and wrinkles. Moisturized soft skin – multiple premium natural oils are blended in the body oil to deeply moisturize the skin, remove skin dryness, and keep skin soft and hydrated the whole day. Helps brighten complexion – enriched with vitamin c, it helps minimize blemishes and gives an even and radiant skin tone
Use For : Body Oil
Feature : Antioxidant Rich – Natural Oils – Moisturized Soft Brighten Skin – Helps Reduce Signs of Aging – Helps Repair Damaged Skin.
How To Use : After bathing, dry your body, take an appropriate amount on the palm of your hand and apply it to your body, gently massage until absorbed.
VITAMIN C BRIGHTENING & ANTI-AGING FACE CREAM – 50g –
Benefits : Contains Vitamin C & E that are known for being such very effective antioxidants, and which helps protect the skin against the effects of aging, is a fresh, lightweight gel formula, Vitamin C stimulates collagen production to reduce the appearance of wrinkles, fine lines and crow's feet and brighten complexion. While hyaluronic acid provides deep and natural moisturizing, it awakens and clarifies your complexion, revealing a natural healthy looking glow.
Use For : Face Cream
Feature :  Acne Treatment – Anti-Aging – Anti-Wrinkle – Dark Circles – Exfoliate – Firming – Moisturizer – Nourishing – Skin Revitalizer
How To Use : After cleansing and toning, apply a small amount of massage to the face and neck until fully absorbed.
Skin Type : Suitable for all skin types and all ages