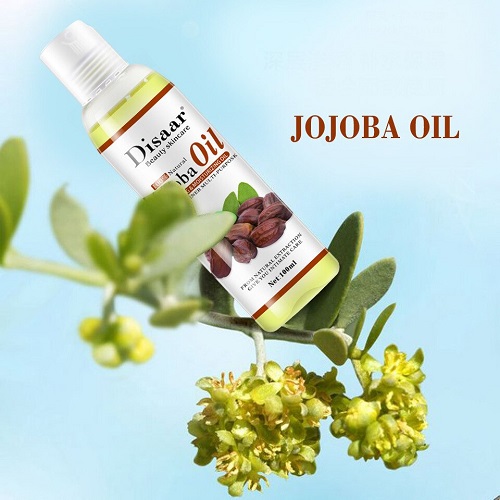 Disaar Jojoba Whitening & Moisturising Oil
£6.00
Features:
Hexane free, Paraben free, Sulfate free and is 100% pure and natural. 
Natural and vsafe moisturizer, softener and safe, non-irritant lubricator. 
Leaves skins smooth with no greasy feeling. 
Does not aggravate skin problems nor clogs any pores.
Absorbs into the skin while reducing essential oil evaporation.
Beauty benefits
whitening
moisturizing
deep cleansing
softening skin
4 in stock
Description
These oils are a valuable source of many vitamins and essential trace elements for maintaining skin health. Oils are actively used in cosmetology to improve the condition of the skin. This oil from Disaar can be used during massage with the use of different techniques. A feature of this product is the presence of a light consistency. The oil is easily absorbed, without creating an indelible greasy film on the surface of the skin, but perfectly warming up and relaxing the skin. After applying this product, the cover becomes much softer and more delicate..
1. Massage the skin and relax the body.
2. Relax your neck, relax your shoulders and neck.
3. Soothes the body, makes the skin bright and smooth..
This product is enriched with natural extracts that rapidly infiltrate into skin, moisturize, whiten, replenish nutrients, relieve dry skin, lighten fine lines & Spots, wrinkles remover, remove acne print, enhance skin elasticity and easily get absorbed without oiliness and can effectively fix multiple skin problems.
This product is enriched with Natural Extracts that rapidly infiltrate into skin, moisturize, whiten, replenish nutrients, relieve dry skin, lighten fine lines & Spots, wrinkles remover, remove acne print, enhance skin elasticity and easily get absorbed without oiliness and can effectively fix multiple skin problems. Used as Carrier Oil, Since it facilitates the Absorption of other Essential Oils and Plant Extracts
Usage:  After shower or before going outside, apply to the area as required and gently massage until complete absorption
Ingredient: Mineral Oil, Jojoba Oil, Caprylic/Capric Triglyceride, Hydrogenated Sweet Almond Oil, Tocopherol