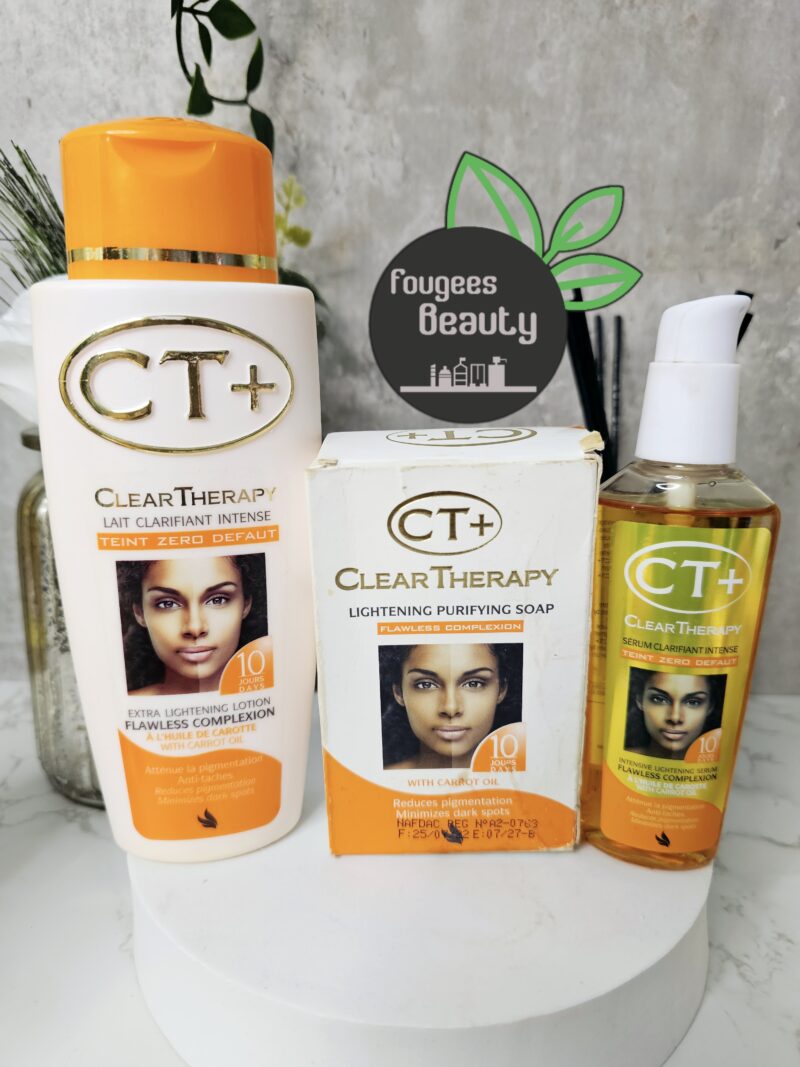 CT+ Clear Therapy Flawless Complexion Lotion, Oil & Soap 3in1
C$47.78
The benefits of Ct+ Clear Therapy Body Brightening Carrot Lotion are as follows:
This nutrient-rich cream is blended with pure carrot oil.
Extracts of carrot seed

Fair and moisturized in the sun.

With regular use, the skin is noticeably smoother and brighter.
Its components and active principles are specifically designed to deep-nourish your skin, protect it and give you a feeling of well being.
Gives 72hr hydration
Skin feels protected against the effects of daily aggressors and helps reveal a healthy-looking glow
The skin barrier feels reinforced with moisture.
3 in stock
Description
CT+ Clear Therapy Lotion With Carrot Oil 500ml
EXCLUSIVE Lotion FORMULA : Buffs away dead skin cells, instantly restoring radiance, promoting a healthy glow. Smoothes skins texture with hydrating and nourishing Glycerin.
CT+ is a milk formula specially developed for pigmentation problems. This authentic skin lightening therapy is a fruit acid complex targeting pigmentation spots formed due to sun damage, age and pregnancy.
The unifying action of the lightly concentrated CT+ gives you a flawless complexion.
Use daily, the results are visible after just 10 days! Your skin is fresh and smoother. Apply twice a day after bath or shower.