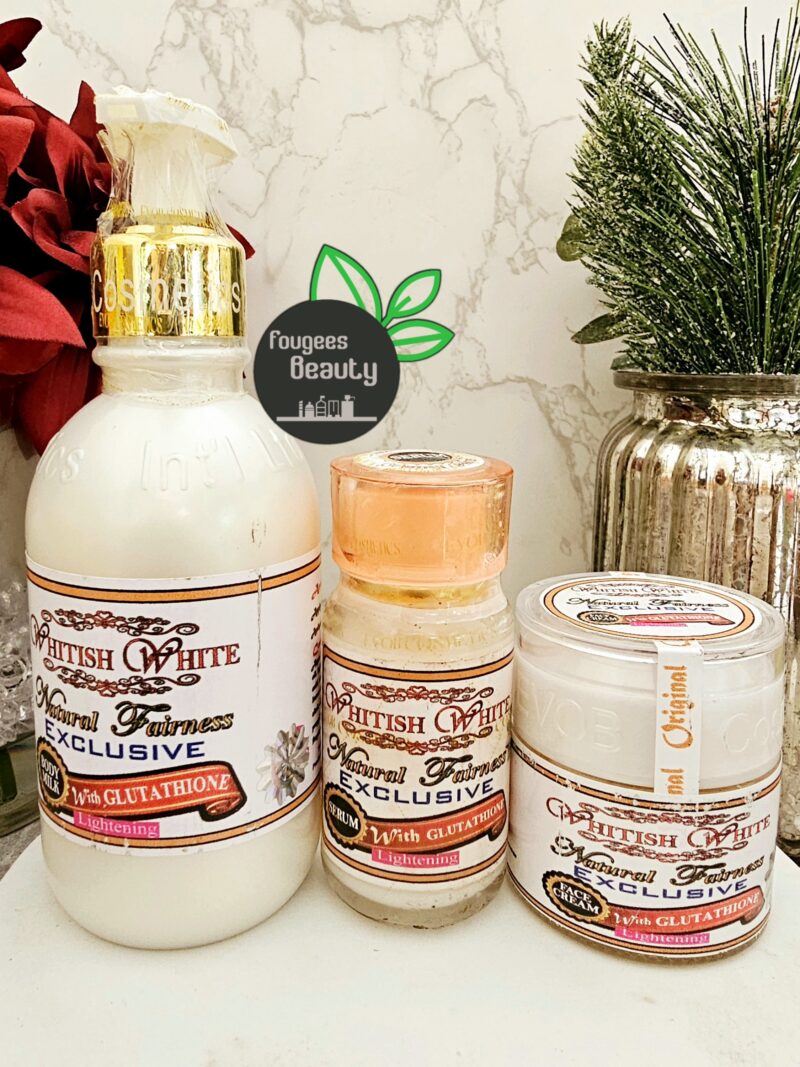 Whitish White Natural Fairness Exclusive Body Milk Set 3in1
£40.00
Whitish White Natural Fairness Exclusive Body Milk Set with Glutathione.
Enjoy a flawless milky white skin tone using Whitish white exclusive natural fair body milk
This will fade away skin discolorations and evenly tone your complexion
Will also reduces dry and irritated skin, fight acnes and pimples, rashes, black spots and much more.
2 in stock
Description
Whitish White Body Milk 250g
fades skin discolorations
relives dry and irritated skin
evens skin texture and tones
reduces blemishes and dark spots
fights facial & body acne
gives soft clear & young skin look
Application
Apply to the skin after shower.
Whitish White Natural Fairness Exclusive Serum 60ml
This complex formulation is form
Strong whitening serum that gives a flawless unify natural milky complexion. 50ml whitish White exclusive serum.
Direction: mix the entire 50ml serum into the whitish white body milk 250ml  thoroughly.
Your skin will thank you.
EV White Ultimate Correction Facial Treatment Gluta-Alpha-Kojic Secretouch 50g
This is a triple whitening cream, corrects all facial irregularities, leaves you with a glowing and flawless face, its a skin white perfector.
NB – once the face is clear and bright, minimize usage 2 to 3 times a week.