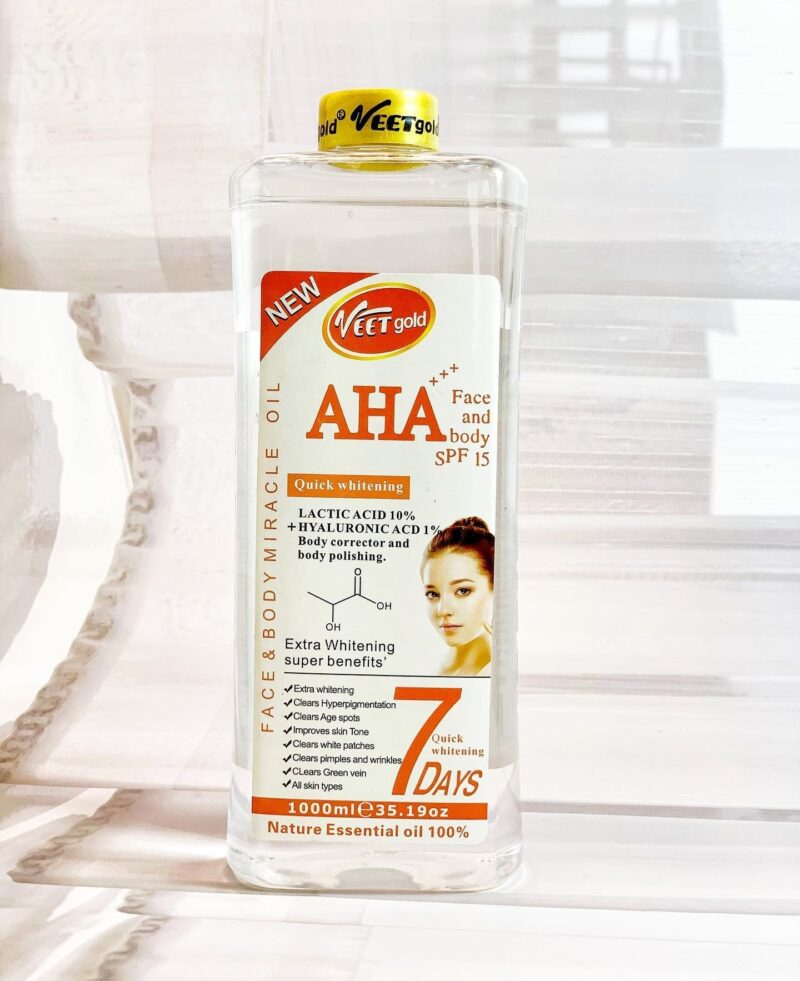 Veetgold AHA Face and Body Oil SPF15 with 10% Lactic Acid
32.53$
Veetgold AHA quick whittening Lactic Acid 10% + Hyaluronic Acid 1% is a body corrector and body polishing oil. Face and body miracle oil with extra whitening super benefits.
Works on
Extra whitening
Clears hyperpigmentation
Clears age spots
Improves skin tone
Clears white patches
Clears pimples and wrinkles
Clears green vein
All skin types
Net: 1000ml
1 in stock
Description
Veetgold oils are made from natural pure plant extract to erase and clean black spots, wrinkles, pimples and dead cells from the body and face. Veetgold AHA Body Serum is enriched with AHA compounds to give you a brighter and smooth skin. It instantly fades dark spots, lightens the skin under the arms, knees, ankles and clears up scars.
The AHA serum is the perfect addition to your nightly beauty regimen. A water soluble acid made with pure vitamin C, this exfoliate, decrease blemishes, dullness and unevenness in skin tone to reveal a brighter, more confident you. With regular use, your skin will tighten and become softer and smoother. For the best results, use lotion with SPF protection during the day and use the serum at night to boost skin rejuvenation.
Ingredients – Butyrospermum Parkii (shea butter) oil, Lactic Acid, Sodium Hyaluronate, Hydrogenated grapeseed oil, sweet almond oil, wheat germ oil, macadamia ternifolia seed oil.
Use – after cleansing, apply proper amount onto the palm of your hand and apply it to the face, neck, back, hand and feet for a soothing massage until the skin is absorbed.
Face oils are one of many skin care solutions out there. They are specially formulated to work with your natural skin oils to help keep your skin balanced. Our skin naturally makes oils and lipids, which help prevent water loss from our skin and keep it hydrated. These oils have substances that help complement our natural oils. Oils can have many potential benefits, but their overall purpose is to serve as an extra level of protection for your skin.
3 Reasons Why You Need Oils
Oils cleanses the skin – in the same way that your skin secretes oil in order to cleanse itself, you can also use oil to remove dirt and makeup from the skin.
Oil nourishes the skin – good quality oils are full of nutrients and fatty acids to feed and protect the skin.
Oils can improve oily, dry or sensitive skin – helps the skin to hold in moisture. Certain oils can help reduce acne and inflammation. Even oily skin can benefit a lot by using the right oils for their skin type. You want to know which oil will be suitable for your skin, try any of these oils today and thank me later.