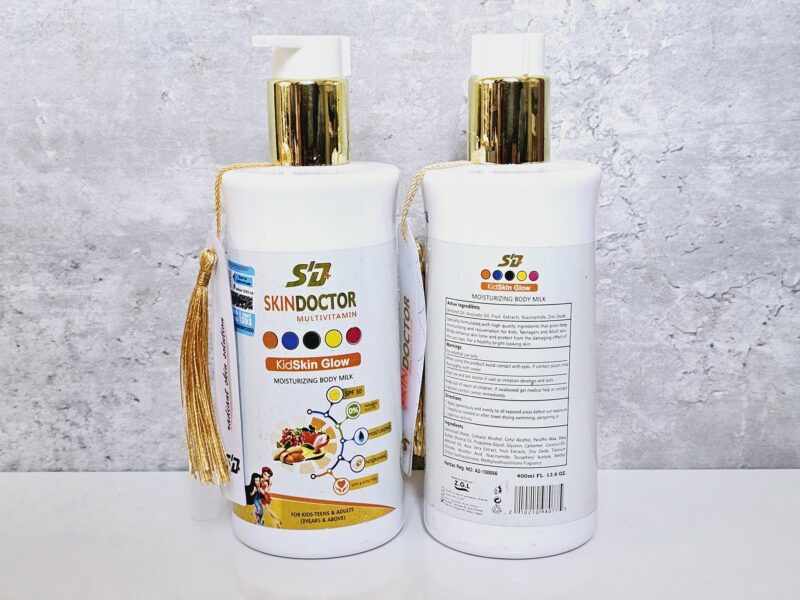 SkinDoctor Multivitamin KidSkin Glow Moisturizing Body Milk
£14.00
Kids above 3_ 12 have Delicate Skin that loses Water faster than Adults skin. Baby Secret Moisturizing Lotion serves as an effective replenishment for Skin. Fpr kids, Teens & Adults (3 years & above).
Feature
Fresh kids skin
Smooth their skin
Soft their skin
Every child needs cream
From 3 and above can use it
Contains spf 30
SPF means (sunscreen protection formula)
Lotion made just for kids to glow their skin and give them that natural skin complexion.
Good for them in all weather.
3 in stock
Description
Specially formulated with high quality ingredients that gives deep moisturizing and rejuvenation for kids, teenagers and adults skin. Mildly enhance skin tone and protect from the damaging effect of sun rays. For a healthy bright looking skin.
When using the product avoid contact with eyes. If contact occurs rinse thoroughly with water. Stop use and ask doctor if rash or irritation develops and lasts. Keep out of reach of children. If swallowed get medical help or contact a person control center immediately.
Directions
apply generously and evenly to all exposed areas before sun exposure
reapply as needed or after towel drying swimming, perspiring or vigorous activity.