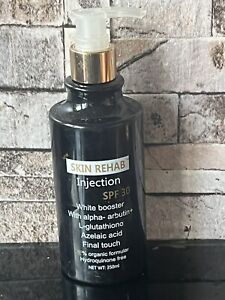 Description
1x Skin Rehab 3X MEGA BLAST SKIN ILLUMINATOR WHITENING LOTION 7DAYS ACTION SPF30
TRIPLE FAST LIGHTENING TREATMENT MILK WITH KENACOL OIL & GLUTATHIONE TRIPLE STRENGTH FORMULA SPF30 350ml
Skin Rehab Injection white booster (Final Touch) with alpha arbutin +, L-Glutathione, Azelaic acid, 100% organic!!
This Body Lotion Repairs damaged skin and treat skin irregularities with 100% satisfaction
Skin Rehab injection white booster goes beyond whitening of the skin, this organic formula helps to eliminate scars, hyperpigmentation marks as it repairs bleached and damaged skin as a result of bad chemicals + toxins and sun exposures, it moisturizes the skin with its organic ingredients. Skin Rehab is known to whiten the skin effectively leaving it supple and glowing. This lotion will leave your skin supple and glowing and your skin will thank you!!!!
It contains spf 30 so safe to use during the day.
Direction
Apply skin rehab injection white booster body milk on a cleansed skin all over twice daily for fast results, gently massage till complete absorption. Endeavor to scrub 2 or 3 times weekly.+