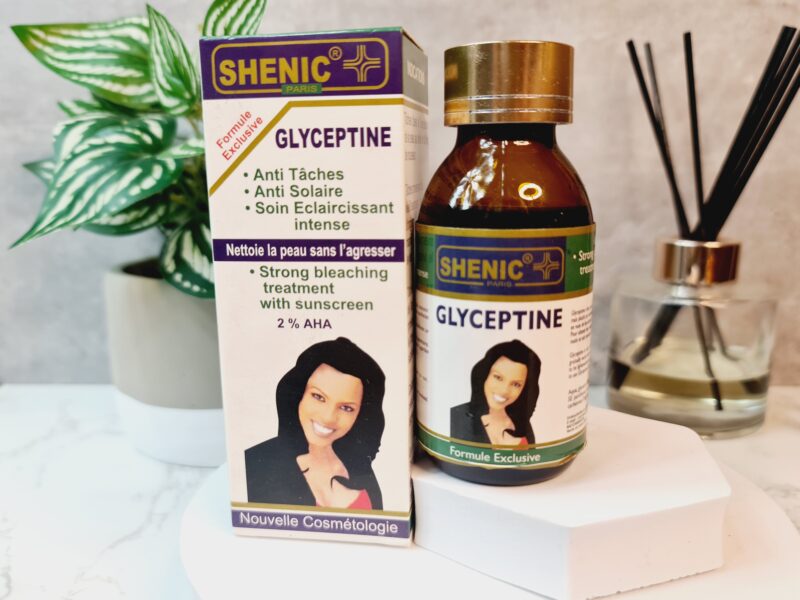 Shenic Glyceptine Strong Bleaching Treatment
18.39$
Freckles and sunspots caused by excessive exposure to sun. Age spots and liver spots on face and hands. Pill spots caused by oral contraceptives. Mask of pregnancy which appears on the upper lip, cheeks or forehead. Abnormal dark pigmentation patches. The sunscreen in Glyceptine prevents the sunlight from darkening those freckles and other brown spots.
Anti-stain
Anti-sun
Intense lightening treatment
Cleanses the skin without attacking it
Strong bleaching treatment
sunscreen
2% AHA
5 in stock
Description
Shenic Glyceptine Strong Bleaching Treatment with sunscreen is not a beauty product that one would use for direct camouflage, but rather an effective spot treatment which acts gradually and naturally in view of the lightening out these spots.
Spots due to exposure of the skin to the sun and freckles. spots resulting from the aging of the skin of actinic origin appearing on the forehead, face and hands. spots from the use of the pill and pregnancy mask appearing on the forehead, cheeks and upper lip. uneven discoloration of the skin and melanin spots or pigment spots. the sun filter contained in glyceptine protects the skin and thus prevents the appearance of new spots.
Glyceptine is not a make-up for instant concealment, but an effective treatment that gradually works with nature to fade out brown marks. For effective results, apply to area to be lightened morning and night for four weeks, it contains a sunscreen which enables you to use Glyceptine all the year round.
To obtain effective results, Shenic Glyceptine should be applied to the spots morning and evening for four weeks.
Ingredients
Aqua, Glycerin 80%, Glycol Stearate, Stearate Acid, AHA 2%, Glyceryl Stearate, SE Panthenol, Vit. E, Menthyl Paraben, Fragrance
Net 125ml