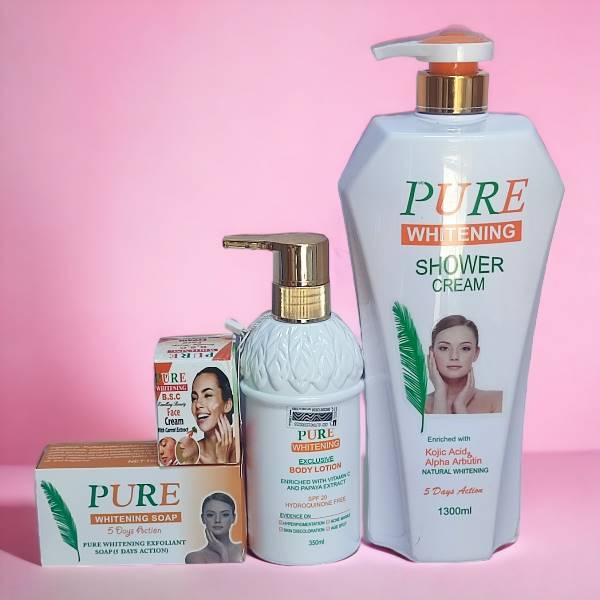 Pure Whitening Exclusive Body Lotion, Face Cream, Soap & Shower Cream 4in1 Set
70.72$
This shower cream lightens your skin in just 5 days, leaving it perfumed, smooth and radiant. Enriched with Kojic Acid & Alpha Arbutin natural whitening.
Set includes
Lotion, Face Cream, Soap and Shower Cream
3 in stock
Description
Body Lotion
Pure Whitening Body Lotion Formulated with papaya extract for special whitening blended with natural ingredients to lighten your skin, protect against UV damage and aging, unified, and make your soft and smooth, it is enriched with vitamin C.
Face Cream B.S.C
Pure whitening facial and body repair treatment cream is a unique combination of finest ingredients to enhance treatment and repair of skin from unwanted skin conditions like sunburn, acne, pimples, dark spots, eczema and rashes. This is a banger.
Whitening Soap
Pure whitening exfoliating soap is specially formulated to refine your complexion, improve skin smoothness with added exfoliating micro balls that gently eliminate dead cells, your skin is unified, regenerated and naturally radiant which improves your complexion, making it lighter, smooth, soft and healthy.
Shower Cream
Pure Whitening Shower Cream is formulated with papaya extract and anti-aging effect and protects your skin against premature aging.
Enriched with Kojic Acid and Alpha Arbutin, two of the best whitening agents, it leaves your skin sparkling with visible results in 5 days.
With daily use, there will be visible improvement on the skin as it returns its flexibility, softness and its youth, leaving your complexion more uniform, hydrated and spotless.
Direction
Apply generously on sponge and enjoy its rich lather on your skin, use twice daily, insisting on very dry areas.