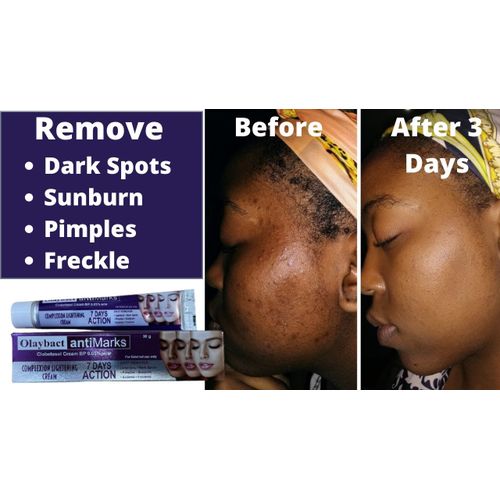 Description
Olaybact Anti-Marks Complexion Lightening Cream contains clobetasol propionate which is a highly active corticosteroid with topical anti-inflammatory activities. This product helps to lighten dark spots, clear pimples, frack and Eczema and remove sunburn all within 7 days.
Olaybact Anti Marks Cream can fix skin problems like dark spots, sunburn, pimples, freckles, and eczema
For External use only. Do not use it on children under 12 years of age. Avoid contact with the eyes, If irritation occurs, discontinue the use of this product. Keep out of reach of children. Store in a cool dry place.
How to use
Apply sparingly to the affected area of the skin once or twice daily with a gentle rub. Use until improvement occurs. Discontinue the use of this product once you achieve the desired result, this should be within a few days.