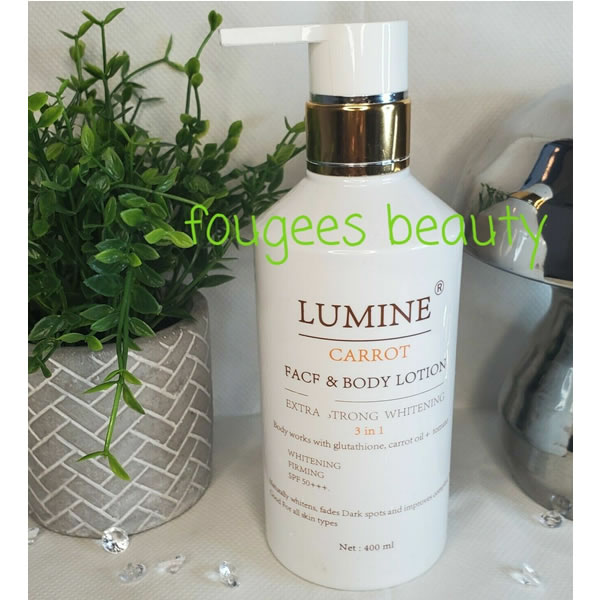 Description
This item is from the same company that made Pure Egyptian Lotion, and if you have tried their products before you will know that their products are very effective. Lumine is even more effective + the added benefit of SPF50 and super active ingredients and with the serum, you are guaranteed to see better result faster.
Lumine Carrot face and body whitening lotion is a whitening and non-greasy blend of natural plant extract and high grade all natural pure Glutathione, Tomato & Carrot which is known for its excellent whitening effect. Body works with glutathione, carrot oil + tomato, whitening, firming SPF50. Naturally whitens, fades dark spots and improves complexion. Good for all skin types.
Polish and achieve radiant, whiter skin with alpha arbutin, formulated to whiten your skin with visible result from 10 days, this moisturizing lotion helps to polish the skin by getting rid of old skin cells, revealing as well as getting new supple skin ready for prepping. Extra strong lightening for natural beauty of the skin. Lumine gold whitening lotion for all-over nurturing nourishment, extra strong whitening and skin firming.
Benefits
Glutathione is for natural skin whitening and antioxidant. Tomato is for glowing skin, act as a natural sunscreen & natural bleaching. Carrot is enriched with Vitamin C a beta-carotene for potent anti-aging.
Direction for use
Mix with the lotion. Apply morning and night after shower on a cleaned skin. For best result use any Lumine soap.