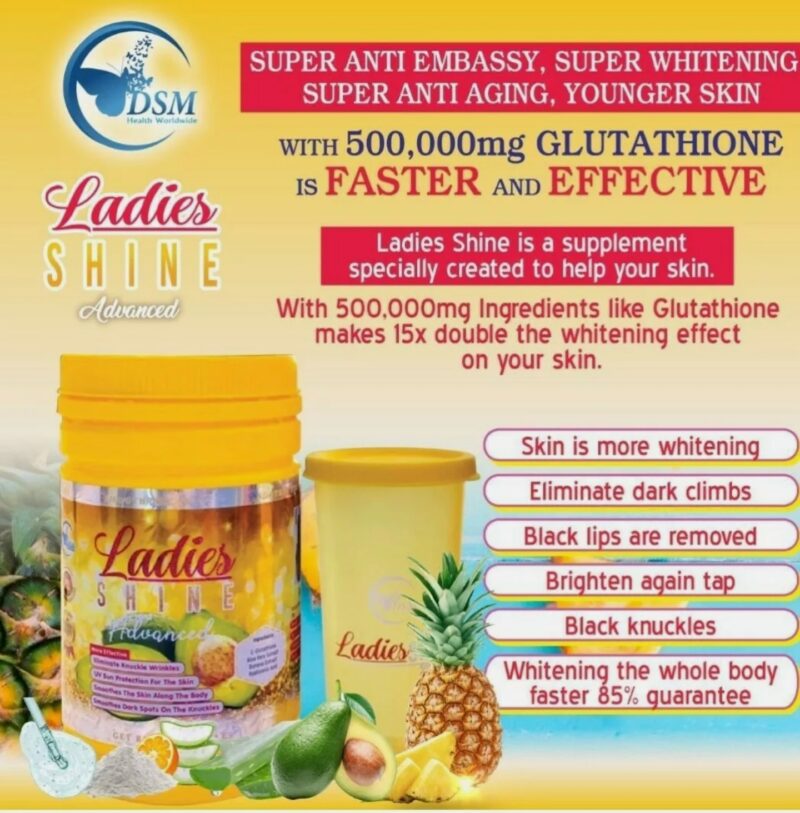 Ladies Shine Advanced Whitening
₦21,000.87
With 500,000mg ingredients like Glutathione makes 15x double the whitening effect on your skin.
✍️ Skin is more whitening
✍️ Eliminate dark spots
✍️ Brightens dark lips
✍️ Brightens dark knuckles
✍️ Whitening the whole body faster 85% guarantee
LET YOUR SKIN DO THE TALKING WITH LADIES SHINE.
8 in stock
Description
Ladies Shine Advanced Supplement (Phyto Collagen Series).
Specifically to solve dark spot area that are difficult to be brighten such as Knuckles, armpit, old scars, lips, elbow etc
Benefits:
✍️Eliminate knuckles
✍️ UV sun protection for the skin
✍️ Smoothes the skin
✍️ Even out skin tone more evenly
✍️ Remove scars and acne scars on the face
✍️ The skin becomes moist
✍️ Glowing skin
✍️ Lips becomes more pink and eliminate dark lips
✍️ Good heart care
✍️ Eye care from myopia
✍️Brightens skin tone
✍️White and Shining
✍️Younger skin
✍️Get rid of freckles
INGREDIENTS:
– L-Glutathione
– Aloe Vera extract
– Banana extract
– Hyaluronic acid
– Avocado extract
– Pineapple extract
– Green apple
– Ascorbic
Direction:
Dilute 1 scoops Ladies Shine Advanced with 150ml of cool water. Drink in the morning before breakfast or at night before bed.
Results may vary depending on the individual. DO NOT PURCHASE IF YOU REACT TO SUPPLEMENTS