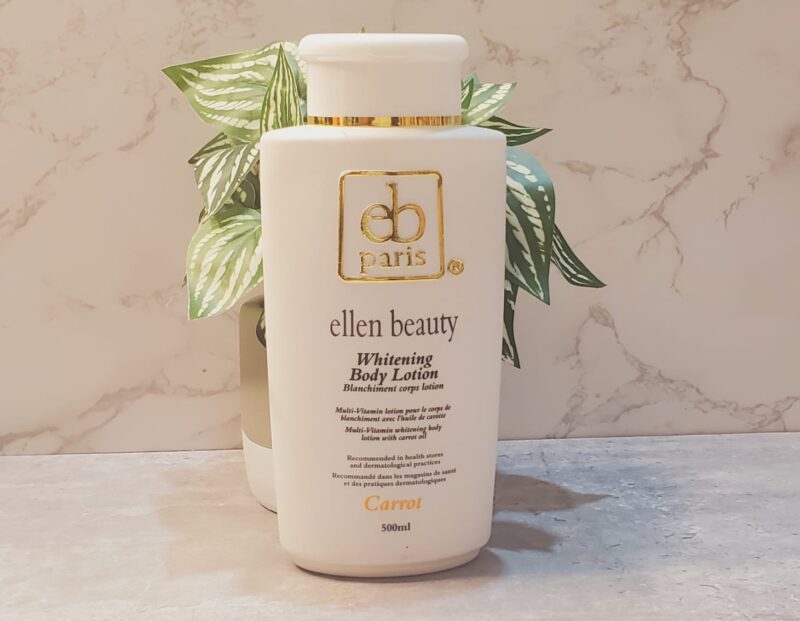 Description
Ellen Beauty Whitening Body Lotion is a well balanced mixture of the best ingredients including carotene. It includes the best Oligo-Phytos natural actives which nourished and moisturises. It is rich in vitamins A, E, C, PP which helps in repairs and conditioning of the epidermal tissue. It contains the best plants extract known for their active and safe toning extracts. Ellen Beauty Whitening Body Lotion was been developed by highly qualified chemists and has been approved by renown and experienced dermatologists. The safety of this product is not only assured, it is highly guaranteed for maximum effectiveness against skin ageing and dark spots. Continuous use of this product keeps your skin young and fresh.
Multi-vitamin whitening body lotion with carrot oil. EB Paris Ellen Beauty carrot lightening Super Strength, Remove Blemishes and Increases Radiance, It extracts which are excellent sources of brightening and leaves a lighter even skin leaving the skin feeling clean and refreshed.
Direction for use: Apply Ellen Beauty Whitening Body Lotion twice daily preferably after bath both in the morning and just before going to bed at night.