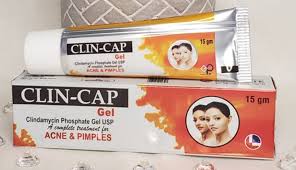 Description
Clin-Cap  Gel is a topical gel that is formulated to treat various inflammatory skin disorders. Clin-Cap combines traditional and modern approaches that work in harmony to keep your skin healthy, clear, and glowing. The gentle active ingredients of Clin-Cap Acne Away Gel help restore the function of normal skin cells, moisture levels, and oil production, resulting in clearer-looking skin without over-drying or irritation.
Clin-Cap is a specialized treatment gel for acne with a special formula to help unblock pores, reduce blackheads and reduce irritation, redness, and inflammation. Clin-Cap also contains enriched ingredients that are scientifically proven to help control inflammatory disorders superadded with bacterial and/or fungal infections of the skin.
How to use
Read the Patient Information Leaflet in the pack before you start using this product. Don't let acne control your life – take back control with Clin Cap Cream. This easy-to-use cream can be applied directly to affected areas, simply by massage. If you have any questions, Reach out to our consultants.