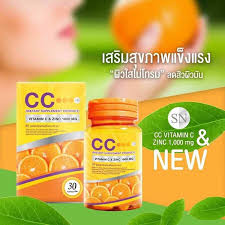 CC Vitamin C & Zinc 1000 mg
£13.50
Concentrated improved formula, Small molecules increase the absorption well doubled.
No coating. Don't mix starch granule easy to eat. Don't choke.
– Zinc help reduce acne. Acne inflammation reduce face oil
– Reduce the antioxidant activity. Increase the flexibility of the body.
– anti-aging, people who sleep late, hard work, the body breaks down.
– Help build immunity well prevent fever.
– create the tissue pore hole reduces acne.
– help skin face healthy from within.
– enhance the function of glutathione.
7 in stock
Description
Key Features:
The intensive formula dietary supplement product for health and skin enhancement
Properties:
CC Vitamin C & Zinc 1000 mg is the intensive formula dietary supplement product with small molecules for the better absorption. Vitamin C helps support healthy body and clear skin without deterioration, while Zinc helps reduce acne, oily skin, sensitive skin, dark spots, and red marks. It also helps increase the absorption of nutrients and vitamins, stimulates the production of collagen, slows down aging, and strengthens the immunity for both health and skin enhancement.
Benefits:
Promotes clear and beautiful facial skin
Zinc helps reduce acne and prevents acne inflammation
Helps prevent cold
Increases immunity for the body
Prevents scurvy
Helps reduce free radicals
Increases flexibility for the body
Tightens skin pores and reduces acne mark
No color coating and starch
Key Ingredients: Vitamin C, Zinc, Citrus Bioflavonoid, Acerola Extract, Grape Seed Extract, Coenzyme Q10, Pomegranate Extract, Rose Hips Extract, Tomato Extract, Magnesium Stearate, Microcrystalline Cellulose
Directions: Take 1-2 capsules before bed.
Content: 1 Bottle = 30 Capsules