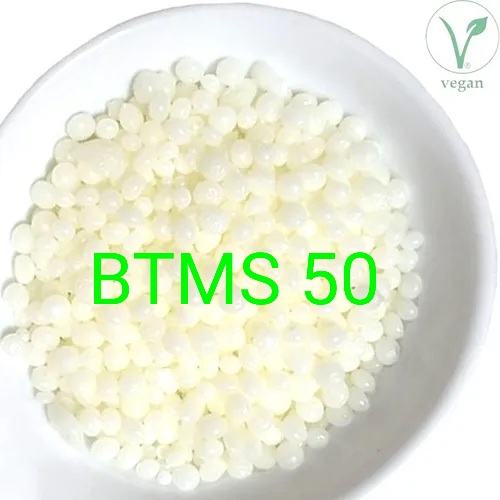 BTMS 50 – Emulsifier for Cosmetic
C$9.39 C$14.50
Btms 50 gives superior cationic emulsions with soft powdery feel, thickening & stabilizing effects, able to emulsify silicone up to 50%. Hair care products: excellent conditioning & detangling effects, superior wet combing, very gentle for leave-on products.
Moisturizing creams & lotions, silicone emulsions, antiperspirants & deodorants, various hair care products (conditioners, detanglers, hair dyes, hair relaxers, leave-on treatments, ethnic hair care products).
Description
The emulsifying wax BTMS-50 is well suited for the production of cosmetic products for hair care, but also for soft creams, lotions or makeup. It is particularly suitable for making shampoos and hair conditioners for their ability to detangle. It also provides viscosity, stickiness and smoothness to hair care products.
It does not irritate the skin or mucous membranes and reduces the pH of the preparations. Suitable for all types of hair, especially long hair, curly and frizzy. Helps strengthen hair, keep it shiny and smooth. Has an affinity for hair keratin, it reduces static effect observed when brushing.
Soft primary cationic emulsifier, type O / W (oil in water emulsion) and unethoxylated. As a cationic emulsifier, it is incompatible with strong anionic surfactants.
Uses of emulsifying wax BTMS-50
• Shampoos
• Conditioners
• Serums
• Respirators
• hair tonics
• Shower gel
Add it to the oil phase and heat (about 70°C) to melt at 55°C.
Dosage: 2-10% depending on the desired consistency
After use, close it again very well and store in a dry, dark place.
Appearance: White to off-white Flakes
INCI: Behentrimonium Methosulfate (and) Cetearyl alcohol (and) Butylene Glycol
NOTE
BTMS-25 will have 25% behentrimonium methosulfate while the BTMS-50 has 50% behentrimonium methosulfate, which means any product made with BTMS-25 will have less active conditioning ingredient and more fatty alcohol to make up the difference. BTMS-25 has cetearyl alcohol, which feels slightly waxier than cetyl alcohol, and doesn't contain a humectant.
If you make a conditioner with 6% BTMS-25, you'll have 1.5% behentrimonium methosulfate and 4.5% cetearyl alcohol. The same conditioner with BTMS-50 will have 3% behentrimonium methosulfate and less than 3% cetyl alcohol. A conditioner made with BTMS-50 at the same amount will mean more conditioning agent and less fatty alcohol. So if you want to have the same amount of conditioning in a BTMS-25 conditioner, you'll have to double the amount of BTMS-25 you use.
Specifications
| | |
| --- | --- |
| Weight | N/A |
| Size | 100g, 50g |