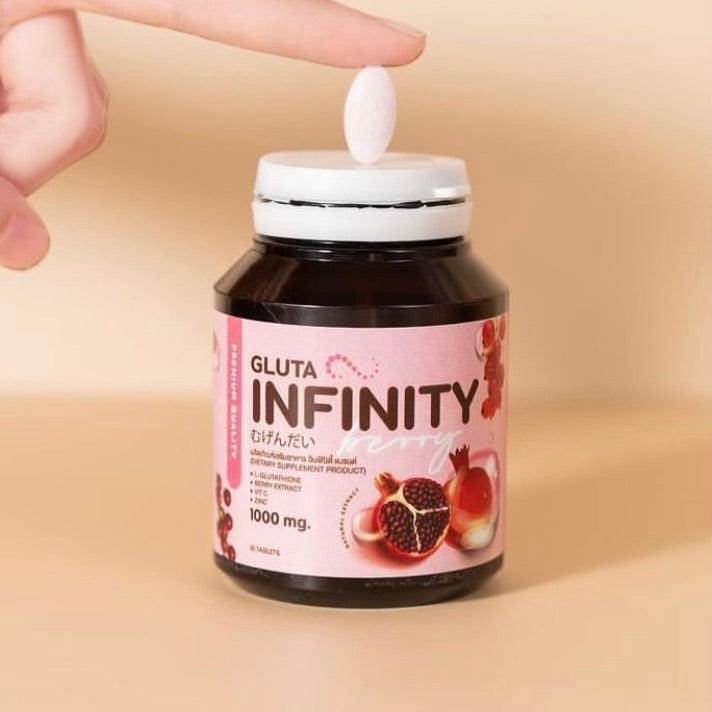 Gluta Infinity Tablets
₦8,167.00
Health Benefit of Gluta Infinity
Gluta Infinity Plus contains molecules that can be easily absorbed to whiten the skin.

Helps Prevent Cell Oxidation.

Anti-aging supplement.

Helps Build Healthy Immune System.

Remove dark spots, freckles, and acne scars.
2 in stock
Description
Gluta Infinity is a revolutionary whitening product that is sure to transform your skin. Additionally, it's safe, as well as effective, and gives you the best results with no harmful side effects.
This natural supplement works by fading dark circles, as well as black & red spots also scars, As a matter of fact, this supplement makes the skin glow dramatically because of acerola. Similarly, this product can be purchased at an affordable price and can be easily delivered anywhere in the world.
Generally, this pill can help combat the signs of aging around the eyes and forehead, which leads to wrinkles and fine lines. In addition, Gluta Infinity contains peptides that prevent & treat blackheads. Gluta Infinity is an amazing product that has skin whitening benefits and is packed with antioxidants. This product gives you a healthy and younger look!
When it comes to beauty, you would be overwhelmed with the result of this new product with new products and improvements. Detoxifies the blood & regulates menstruation– Controls excess oil from face and hair– Prevents hair loss & stubborn acne– Slows down skin aging– Strengthens the immune system.
Using this product will help you achieve younger and healthier skin in no time. There are many benefits to using this product, with its main purpose being to make your skin appear whiter.
Gives V shapes without any surgery.

Contains ingredients that brighten tone and moisturize skin from the inside.

Experience visible results within 7-14 days.

Brightens skin tone all over including underarms and body.

Helps control oil production and prevents breakouts on the face, while also reducing any hyper-pigmentation issues.

Normalize Bowel Movements for Better Digestion and Absorption of Supplements.

It cleans the blood and regulates menstruation.

Help to strengthen your immune system.
Administration and Dosage
Take 1 capsule 30 minutes before breakfast and then another capsule again before sleep for a month.
After that, just take one capsule 30 minutes before breakfast.
Precaution/Side Effect
Store in a cool place at room temperature.
 Keep out of reach of children.
 No side effects.
Key Ingredients:
Tripeptide Fish Collagen, 250mg, L-Glutathione 60mg, Glycine 50mg, L-Cysteine 50mg, L-Glutamine 50mg, L-Lysine 50mg, Coenzyme Q10 40mg, Aceroia Cherry Extract 40mg, Ascorbic Acid 30mg, Pomegranate Extract 30mg, Pine Bark Extract 30mg, Grape Extract 30mg, Zinc 25mg, DL-Alpha-Tocopheryl Acetate 10mg, Rice Extract 5mg, L-Glutathione, Vitamin C, Zinc.
Quantity
Suitable for
Not-suitable for